Malcolm a fetish club dungeon supplier has huge fire at his warehouse.
UPDATE: June 14th 2019:
Just given Malcolm what I had left of my old Club RUB dungeon equipment, so he can start again. Two spanking frames, leather sling with frame and a upright frame for rope or bondage, curtains and a stage light. He lost everything in a fire at his live/work space in Tottenham. He tells me it was the third largest fire in Lonson after Glenfell. Not just his workshop has gone, but fifteen business lost everything, over 100 people out of work. It started in a grow shop (weed growers). They are suing them, but I guess there's not much in their bank account! He's had no help from anyone official. There was no insurance. He's trying to piece his life back together. One puzzle piece at a time. I was happy to help. At least he will be able to carry on supplying clubs with equipment.

I donated to help Malcolm get back on his feet after his Tottenham warehouse caught fire and burnt EVERYTHING to the ground.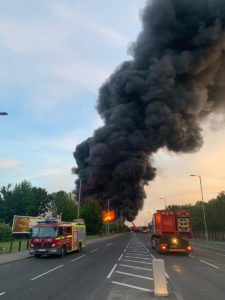 He supplied (and stored) my dungeon equipment that was used at Rubber Cult and Club RUB.
Fetish-club dungeon-supplier has huge fire that I read about and didn't know it was Malc.
He lost his place of work, home, belongings and pets in the fire. Thankfully he got out, but only in the clothes he had on. He was able to drive his van away from the blaze, saving that, but nothing else.
He is not being offered any help by the local council.
Please donate on @justgiving and help raise £2000 (which is nothing really!). Imagine if you lost everything!
Fetish-club dungeon-supplier has huge fire and all is gone!
It doesn't take a lot to help someone and be kind. Just five pounds will help when you have NOTHING.
Photographs and films: want to see more of me via my clips site: OnlyFans
Tweet this Blog? Do it below!
Wish List is a great way to show your appreciation of my blogging. Amazon money gift cards are most welcome using kimrub@btinternet.com. Because giving fills you with joy.
Important: the only way to book an appointment or to ask questions is to call Miss Kim by calling on: +44.7729 003220
Miss Kim x