Slutty, wanton, obedient and cute behaviour is an absolute must for all sissies cross dressers transvestites AKA sluts!
This is an official call for all sissies, cross dressers, transvestites AKA sluts! I have just had a huge delivery of fru-fru dresses, fluffy mules, frilly pants, petticoats and wigs.
Afternoons of maid chores, followed by dressing and make up time, being silly with wigs and hats, baking cup cakes and drinking gin from a tea cup...girly stuff.
All that, and the fact that I'm a MUA, means I can turn you into a cute doll or a slutty whore! As a make up artist I know how to transform you and make you fancy yourself!
Sissies, cross dressers, transvestites AKA sluts are my kind of people
Ever wanted to be trained in the art of the feminization? To learn to how to improve your feminine charms?
Training/sessions include anything and everything from service orientated sissies to afternoon tea drinking cross dressers to street walking transvestites AKA sluts!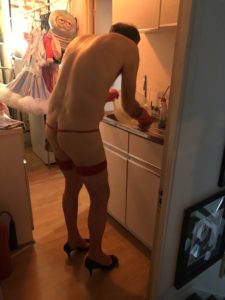 Household tasks, old fashioned punishment, hard core strap-on action, cock sucking or baby doll realness are all things that are available. What you need is a firm but but professional hand...oh er missus!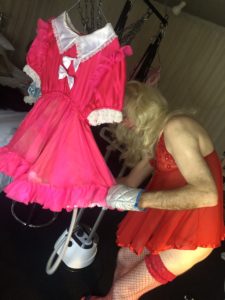 Wigs come in ever colour and length and I have most. My selection of TV heels are not too high but I have a full range of sizes. My panties collection is growing. Got another pair last night in silky red. I have lots of petticoats; orange, black x 5, green, pink and polka dot. Just a few of the heels below.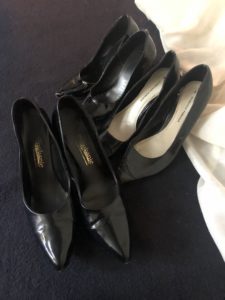 My sissy dresses are in shades of pink and baby blue. There are three and they fit most sizes. Some with matching panties. I always think it's advisable to have your own dress if visiting regularly.
I don't do food play. However, I'm happy to play house and have afternoon tea or play patty cake!
Love a TV whore on her back, with her legs apart. Endless possibilities for play with this dirty bitch.
Are you a sissies, cross dressers, transvestites AKA sluts who is looking for a Mistress who understands you?
Trigger words, commands, humiliation, control, chastity, tasks, BDSM play, servitude, maid, toddler, rubber doll, whore, toy doll oh, the list goes on. Come to me and be taught the rules of sissy subserviency.
Photographs and films: want to see more of me via my clips site: OnlyFans
Tweet this Blog? Do it below!
Wish List is a great way to show your appreciation of my blogging. Amazon money gift cards are most welcome using kimrub@btinternet.com. Because giving fills you with joy.
Important: the only way to book an appointment or to ask questions is to call Miss Kim by calling on: +44.7729 003220
Miss Kim x