My trips to Florida and Edinburgh were back to back.
I had the pleasure of sharing a room at the Westin Hotel with Rubber Megan at the Florida Fetish Factory Memorial Day Weekender. I had just come off a nine hour flight when we  met at Miami airport. Rubber Megan had just driven 17 hours! Still, that allowed her/him to bring LOTS of rubber, cases and cases, in fact.
I had every intention of playing with her/him during the weekend but on the first night she/he found her own entertainment, whilst I sleep soundly. Her/his lovely new friend hung out with us over the weekend.
The main party was on the Friday this year and 'off site' at a night club. Which was not a problem as shuttle buses ferried the hotel crowd to and fro all night. Both of us got lots of compliments. We hooked up this my Canadian friends Ryan and Mel (and their friends) at the night club. There was an after party by the pool but I 'turned in' and called it a night.
Went down for the buffet breakfast again on day 2. A feast for only $20. During the day we sat with Ted, Di and entourage by the pool area, but in the shade, as it was sooooooooo hot.
The evening party was poolside but the heat at 11pm was too much for me. Upon retreating to the air conditioned bar, the three of us bumped into Jean Bardot and got invited to her room, with about 15/16 others! We had so much fun. I took a shine to Jean's slave Geoffrey…he is so much fun.
So on the Sunday there was a pool party. I lasted a couple of hours in the pool area, as it was too hot, then went to the bar to cool off. Stayed there hours chatting with Ted, Di and Bruce. Went up to the room for a nap and didnt wake up.
The Monday was a real treat as Rubber Megan took me to the Hyatt Hotel for a massage and facial. So nice after a huge party weekend. I made it back in time to go in the pool and chat to Pretty Painless and Mad Alan. The water was like a bath tub.
The last party of the weekend was on the Monday night (and invitation only). The organisers Glenn and Donna have  a 'decompression party' at their home. They certainly are the hosts with the most!
Tuesday morning we packed, then went for breakfast at a diner, before I went back to Miami Airport. An overnight flight had me back in the UK early Wednesday morning. A very happy and satisfying week in Florida. I will be back but maybe not for a year or so. In 2018, I have other plans.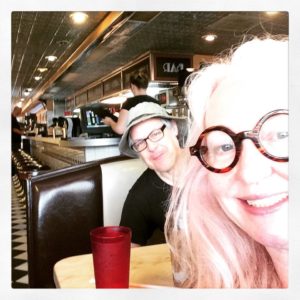 One full day in London, then on an early train Friday morning to Edinburgh. making the two trips to Florida and Edinburgh - back to back. I jumped in a cab and arrive at my friend Mistress Inka's new apartment. On the Friday evening we had dinner at a gorgeous Thai restaurant called Chaophraya, that had an amazing view of Edinburgh Castle. Then for cocktails in a swanky bar close by.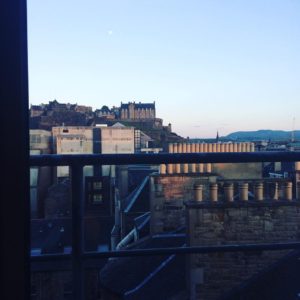 Doubles sessions with Mistress Inka on the Friday and the Saturday. Then back to get ready for the Torture Garden at The Caves. We went on mass - seven of us in total. What a hoot! Really fun and enjoyable night.  TG in Edinburgh feels like the early days of TG in london, exciting and fresh. We were the last to leave and went back and chatted about our night.
It was a very lazy Sunday, finished off with a Thai take away meal and another double session late into the evening.
Monday I went shopping for birthday gifts for my friends. Made lunch, packed my case and went by way of Mistress Inka's dungeon Maison De debauch for one final session. Shared the  journey home via Virgin Trains with her slave.
Love Edinburgh and Mistress Inka. Most fun I have  had in a long time.
Check out my social media on the HOME page and the BLOGS page. Follow me?
I have a Wish List if you would like to show appreciation for my blogging. Amazon money gift cards are most welcome.
The only way to book an appointment or to ask questions is to call Miss Kim by telephone: +44.7729 003220
Miss Kim x
SaveSave