Mistress art collection is small, beautiful and eclectic.
Each piece in my Mistress art collection is personal and tells a story, or have caught my eye and something I like to look at often. As a mistress, domme, dominatrix, fem dom, pro dom, I think if you are going to invest in anything, then handbags and shoes will never increase in value, however, gold and art will. Choose wisely.
New to my collection 2022 is a piece by Phetishskin. View the art prints for sale on linktr.ee/phetishskin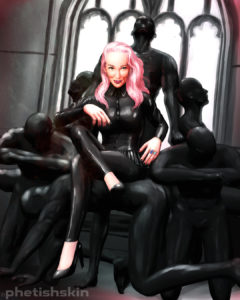 I've got these two Trevor Brown prints that were given to me by a dear friend Krissy for my birthday. They had previously been on her wall. I'd expressed how much I love them and next thing you know – they're mine!
Trevor Brown has a book out called Alice. I would love this as it's my favourite childhood story.  You can send an ecard from his site too. Great for cheapskates birthday cards! Here is my favourite images from the 'Alice' book.
Mistress art collection has a prized piece by Boy George.
Boy George gave me this piece of art. It's a photo printed onto canvas of Amanda Lepore. He shot her whilst living in NYC. I love it. I think she is amazing, weird and wonderful. This is the second picture he's given me. Also gave me a embroidered/bejewelled military jacket too. George is lovely. He's a great person to follow on Twitter – very funny.
Vania Zouravliov produced six images for Club RUB flyers about ten years ago. He gave me this image below, as a gift, shortly after that. I also commissioned him to do a piece for a friends 40th birthday. The key subjects being; a knickerless lady, with a monkey! He did an amazing job and she loved it.
Russian-born Vania's surreally haunting illustrations capture a mixture of innocence, brutality, beauty, macabre, erotic scenes and decay, which appeals to this Mistress art collection. His resulting drawings are elaborately composed and demonstrate the technical brilliance of an old master.
This one is a DotMasters print - a limited edition of the performance artist Roxy Velvet.  It's huge. My friend, one of the c6.org collective of artists, gave it to me for my birthday in 2008. At Glastonbury 2009 I met Roxy and told her she was on my wall. He also came and stencilled it on the front of the building I live in. Unfortunately, it was removed by my neighbour.
In my Mistress art collection I feel privileged that I was  photographed by Rankin.
Two shots of myself taken by Rankin. The amazing Rankin! I was a university with him. I was the editor of a college magazine called Succession and he did the cover for me.
Thrilled that I now have a Seb Lester print - Jerusalem. I nearly bought his 'Flames' print. I kicked myself when it sold out. Should have bought it. Now if I like something, I buy it.
Recently purchased this by Chris Guest  'Pink Car Selfie' a limited edition print. I love the big broad confident brush strokes.
Something I've made into a piece of art is a set of Tarot cards by Nicoletta Ceccoli. Mistress Silk bought me them for Christmas. I picked out all my favourites and frames them. I've got a little bit of a pink thing going on in it.
Mistress art collection: This is the Queen of Clubs - me!
Love, love, love the art of  Russian born Karina Akopyan. This piece of art was given to me by five of my best friends for my birthday. The best gift ever.
There is more, however, these are my favourites.
Wish List is a great way to show your appreciation of my blogging. Amazon money gift cards are most welcome.
The only way to book an appointment or to ask questions is to call Miss Kim by telephone: +44.7729 003220
Miss Kim x
SaveSave
SaveSave