Calling Pink Princesses, Sissy Sluts & Sassy Crossdressers for Sissies By the Seaside.
This event is brought to you by by Miss Kim and Mistress Tess. A weekend of dress up femme fun. £450 per person. Super limited places! What you can expect from Miss Kim and Mistress Tess is a warm welcome, acceptance and filthy fun.

Do you have a sissy side? At this exclusive event in the company of fellow sissies you have the chance to let your sissy side shine. Miss Tess and Miss Kim love playing sissy games. We are both sensual and creative dommes who will take you into a world of ecstasy.
This event will be held in a spacious centrally-located Brighton based apartment, maximum of six spaces for this sissies to the weekend event - so very exclusive. Relax in our private upmarket apartment. Please know that it's a safe environment for you to have fun and share an experience with other playmates.
Sissies By The Seaside is at a very reasonable price.
Wow - only £450 tribute per person covers two nights stay and the following agenda:
Therefore, when you consider how much it would cost for two nights accommodation and two meals. Plus of course there is the transformations and play. It's a bargain!
Arrive Friday 6th December from 3pm. Full feminisation make over, including shoes, dress, other clothing items and full makeup with wig.
Optional: out for seafront walk about 8pm and then to dinner in a restaurant (you are responsible for the cost of your own meal) accompanied by Miss Kim and Mistress Tess.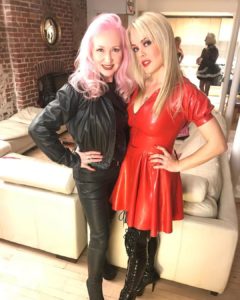 Back to apartment for a bit of slap and tickle (mini dungeon set up) until 1am.
It wouldn't be Sissies By The Seaside if there wasn't a bit of saucy seaside fun.
Saturday 7th December. Rise at 11am for Full English breakfast. Followed by full sissy feminisation transformation to suit your style - sassy bitch, frilly sissy, shiny slut etc. At 5pm we will have Afternoon Tea and photo shoot.
Be ready for 9pm to 10pm for our outing to a fetish club event - SPANK Glitterati Winter Ball, accompanied by Miss Kim and Mistress Tess. (you will be required to cover the cost of the ticket on the door - approx £25 each - tickets will be reserved for our party). People carrier has been arranged to and from the event and is included in the cost. Playtime in the event dungeon, with both of us, will be given to each of you.
Our Sissies By The Seaside will be looked after as they enter and leave the club.
Take note: The event is in a very quiet area that has no passing traffic. Plus you are in the safe hands of by Miss Kim and Mistress Tess.
Sunday check out time is 11am. You are welcome to join Miss Kim and Mistress Tess for Sunday Lunch at a nearby quaint pub in your civvies!
It's important as dominant women that we train you in the art of sissy servitude.
First you look: dressing to impress,
Walking: even in the smallest heel takes practice
Poise: your posture is important at all times
Service: serving your mistresses and fellow sissies the correct way
Punishment: we address your shortcomings
Limits: your likes, dislikes and limits are always respected

The full cost must be paid at the time of booking. non-refundable. Bank details will be given at that time also.
Photographs and films: want to see more of me via my clips site: OnlyFans
Tweet this Blog? Do it below!
Wish List is a great way to show your appreciation of my blogging. Amazon money gift cards are most welcome using kimrub@btinternet.com.
Important: the only way to book an appointment or to ask questions is to call Miss Kim by calling on: +44.7729 003220
Miss Kim x