Just received my very first Oxy Shop haul. I say first, because I will definitely order more from them.
Great products, service, informative, speedy delivery and most important - very inexpensive items in my first Oxy Shop haul. Free postage too!
Amazing website packed full of BDSM toys of all kinds. I decided to update my ball stretching and restricting devices.
Weights are a particular favourite of mine, so I had to have this gorgeous ball stretcher. I have my own weights, the ones I got from the fishing tackle shop. Beautiful and shiny in stainless steel, it's sold with an Allen key, all in a velvet bag.
As a London mistress I feel it's very important to invest in your craft.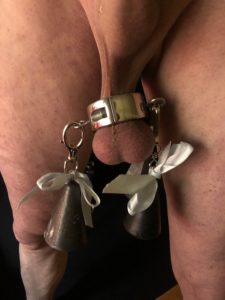 My Oxy Shop Haul is in total five items.
Second on the list is an amazing ball stretching device. It's a little bit fiddly to put on but once in place you can turn the screws bit-by-bit, for maximum effect and stretch. The space that is created in between is perfect for pinwheeling, or candle wax, or and ice cube (in a condom) etc. As well as the balls themselves , of course! Called the Squeezer by Oxy, this one was recommended to me by the owner of the company. It was also my slaves favourite.
Strangely I didn't have a Humbler, so took this opportunity to purchase one. Haven't used it yet, but it's very good quality. I've used one in the past.
Locking spiked ball stretcher grabbed my attention as it had a padlock and ball splitter. I've also found that on larger cocks, it can use it on the end of the penis. The screw-in spikes are very effective.
Lastly, I got the cutest little acrylic box for chastity key emergencies! Just purchased one of those remote controlled locks (Bluetooth) for this. Just a quick call to Mistress and the lock will open. So long as there is a really good excuse for that to happen!
As I write this, I'm already looking at other things I want to buy for my next Oxy Shop haul.
Their site is very seductive...beware!
Photographs and films: want to see more of me via my clips site: OnlyFans
Tweet this Blog? Do it below!
Wish List is a great way to show your appreciation of my blogging. Amazon money gift cards are most welcome using kimrub@btinternet.com.
Important: the only way to book an appointment or to ask questions is to call Miss Kim by calling on: +44.7729 003220
Miss Kim x