I asked my slave to describe how I'd helped him with Discovering Women's Undies
Demanding I'm not, however, minor coercion never hurt anyone. I'm particularly fond of men in vintage undies and also sissies. A slutty tart is always fun, but aesthetically - cute and retro is where my heart lies.
The following is by @mrunderheel my devoted slave. June 2020
"As a regular guy I was a careful dresser. I liked brogues and old-fashioned shirts, I chose grey & dark blue, self-colours & neutral shades. I once read that ambitious men wear restrained clothes and it sounded convincing. My clothes were tidy and unobtrusive - they were camouflage. This was my life for decades.
However, when a former Mistress put me into stockings and heels I heard myself telling other scene people that I finally understood why women accept pain from their own shoes, that I liked the way heels made me feel vulnerable, that I liked the way they pushed out my boobs. What was happening to me?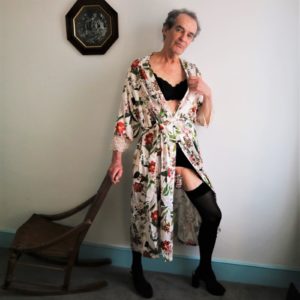 Very late in life, I found I was finally getting in touch with my submissive nature. For decades I had tried, with limited success, to be the kind of man I thought woman wanted; a decisive and dominant man. However, I discovered vulnerability is irresistible.
Accepting my submissive nature inspired no impulse to dress up as a woman, or look like a woman, or be a woman! Certianly not a heavy-featured old bloke in bad make-up and a wig. What I needed was clothes to express something different - my kink, my difference, my glorious perversion, my submission to dominant females.
Miss Kim told me she loved helping me Discovering Women's Undies
Before then I had always worn latex at scene events. It expressed my kink but not my submission. In the early stages my submissive clothes were minimal. My first Mistress used to take me to play parties and fetish clubs wearing only heels and stockings, with a cock cage and a dog leash attached. She chose 5" heels for me, delighted in making me wobble down stairs and often left me to wait for her tethered outside the ladies toilets like a dog, which incidentally I liked.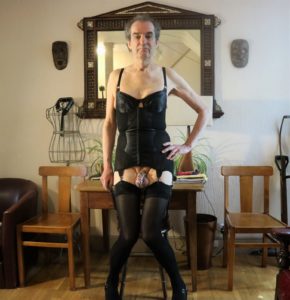 Then I met Miss Kim Rub who put me into full-time chastity and required daily verification photos of my cage in place. It was lockdown, so I had plenty of time to take cage selfies. She also required that they photo should be 'creative'. Wondering what else to do or wear, I was genuinely surprised to find a whole drawer full of tights, panties, slips, suspender girdles and stockings, when did I buy all those? It was baffling. I never wore them. Miss Kim had never even seen me in them. But I started putting them on, one by one, really just as background for those chastity verification pics.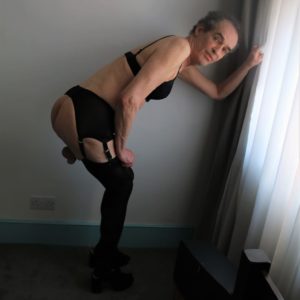 'You're a dark horse' said Miss Kim dryly. And I must have been, because from that day on, the whole women's undies thing just grew and grew.
Last year Miss Kim's & Mistress Tess ran a Sissy Weekend in Brighton, I came along but only as Miss Kim's slave. Ironically I didn't join in sissy make-up or dressing. Personally, I remain indifferent to pink frilly sissy outfits and have no interest in wigs or make-up. On the other hand I'm enthusiastic about vintage women's undies, lovely sexy bras, knickers, corselettes, girdles, cinchers and numerous other items of lingerie, whose names I may eventually learn. I've started shopping at What Katie Did. I'm embarking on the complex and unsatisfactory process of matching a skinny male body with female underwear sizes. I love it that these high quality undies give the impression of being delicate and fragile, while actually being tough and made to last.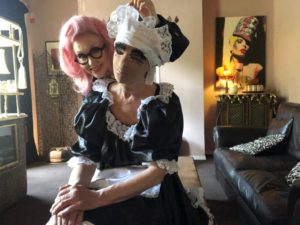 In conclusion, I don't want to hide my cock away! I like Mistress keeping me in an open steel type cage, I think it's flattering peeping out from under a girdle, and so cute framed between my suspender belt and my stockings.  For the same reason I don't want fake boobs, I like an A cup bra, especially if it gives a glimpse of pert male nipple inside.
Sadly, I'm a hairy man. My former Mistress was the first to make me shave my legs, and of course I did what I was told, but that first-ever shave was quite an undertaking and I may still have the scars. But from then on I never presented myself to a dominant woman without being freshly shaved from the waist down. It took another year before I could bear to extend the shaving all over. I did that for Miss Kim. From now on I will never present myself anywhere without shaving every inch, up to the ears. Miss Kim has also instructed me to body moisturise!
I'd like to thank Miss Kim who has helped me with lingerie suggestions whilst I'm Discovering Women's Undies
So, when I'm shaved, and as smooth as I'll ever be, then I pull on seamed stockings, attatch suspenders and slip into heels, when I lay back and spread my legs as wide. I then ask my beautiful, caring Mistress to fuck me senseless, whilst I asking myself this question - what are clothes for?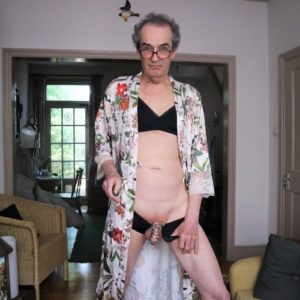 Here's my personal theory of clothes, as worn in the conventional western society I was brought up in:
Male clothes are chosen to divert attention, female clothes to capture attention. In other words women are dressing to be looked at, but men are dressing to be invisible. Maybe men dress from fear, where women dress from love? I'm not sure where to place myself in this spectrum. I just like my undies to be pretty because I can't be!
If you enjoy what I do, please support me on Ko-fi and buy me a coffee! https://ko-fi.com/misskimrub
Photographs and films: want to see more of me via my clips site: OnlyFans
Tweet this Blog? Do it below!
Wish List is a great way to show your appreciation of my blogging. Amazon money gift cards are most welcome using kimrub@btinternet.com. Because giving fills you with joy.
Important: the only way to book an appointment or to ask questions is to call Miss Kim by calling on: +44.7729 003220
Miss Kim x