We all like expensive toys, quality domme equipment. However, I love beauty too, so I chose to invest in Liebe Seele Global as it's gorgeous.
After much research for quality domme equipment I went for a company that believes in the global BDSM community, and is not a mass-production Chinese company, who doesn't understand our industry. 
Liebe Seele Global are a Japanese company who make handcrafted genuine leather bondage and fetish products in the finest quality materials, and are unspeakably beautiful. The sort of toys a man should buy for his mistress, or his submissive.
Valentine's Day is coming up…take note boys for your quality domme equipment
My choice was a beautiful set; wrist cuffs, ankle cuffs, spreader bar and a collar with matching leash from the Red Wine collection. Such a beautiful classy shade of red. Plus I already have black and tomato red. The Rose Gold Memory set did tempt me, but I'm a working domme, so I have to think about cleaning after multiple users.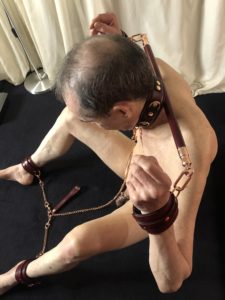 Attention to detail is at the top of their list. The packaging is luxury, just the sort of thing you would expect from a high-end company and not really one with these price points. Most companies that sell products of this calibre are twice the price. I find Liebe Seele Global, very affordable. However, they have not scrimped on the boxes. Very clean minimal design, and very Japanese.
When it's only you and your partner touching them and you want something beautiful hanging up in the bedroom or playspace, like the Rose Gold Memory or Shining Girl. The rhinestones however, really do make this set very feminine…although many boys lean in this direction anyway. Sissy clients and service-orientated husbands would love this bit of sparkle with their maids outfit.
Quality equipment is essential for every playroom 
Excitedly, you might be going out in public, which would make me think of the Vivid Set, especially in fetish clubs. Just imagine the club disco lights bouncing off them as you bend over. The glossy texture makes you stand out for the crowd and shine.
Liebe Seele Global are great at mixing up the soft and shimmering materials with gold metal connecting parts. Vivid Set is a great set for the sissy in your life as it's so inexpensive and pretty. This basic set of Blindfold, Ball Gag, Collar and Lead, Handcuffs, Ankle cuffs, Flogger, Hogtie and Nipple Clamps, is a great place to start. I know just the sissy whom I will be instructing to buy this….go now Dolly Rainbow and purchase this as it's only $59 USD! 
Generally speaking, it's gender neutral equipment. It's not overly feminine or masculine, which is great if you play with both genders. The rose gold hardware makes it just that little bit different and it's super quality.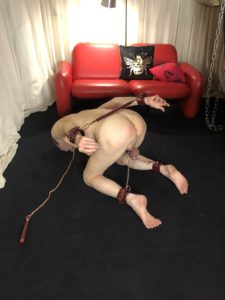 Beauty, value and quality equipment
Also in their range are corporal punishment implements for something more impactful. Collars. Blindfolds and ball gags for added sensory deprivation. 
Consequently if you fancy something unique, one-of-a-kind etc, then have something custome made. Just order something special for the lady (or gent) in your life; wife, fiance, girlfriend, play partner or Mistress. Maybe in her favourite colour or finish of leather.
If you were wonder how to pronounce Liebe Seele just listen to Ezada Sinn is this film at 58 seconds.
Photographs and films: want to see more of me via my clips site: OnlyFans
Enjoy what I do? Then please support me on Ko-fi and buy me a £3 coffee or two! 
Purchasing something from my Wish List is a great way to show your appreciation of my blogging. Amazon money gift cards are most welcome using kimrub@btinternet.com.
Important: the only way to book an appointment or to ask questions is to call Miss Kim by calling on: +44.7729 003220
Miss Kim Rub ?