Over the last 30 years there have been so many, that I almost forgotten them all. I will work backwards from the most recent mistress reviews and Interviews.
Interview on one of the top mistress directories for Mistress Elite. Also an interview on a new scene site called UKFetishScene.com.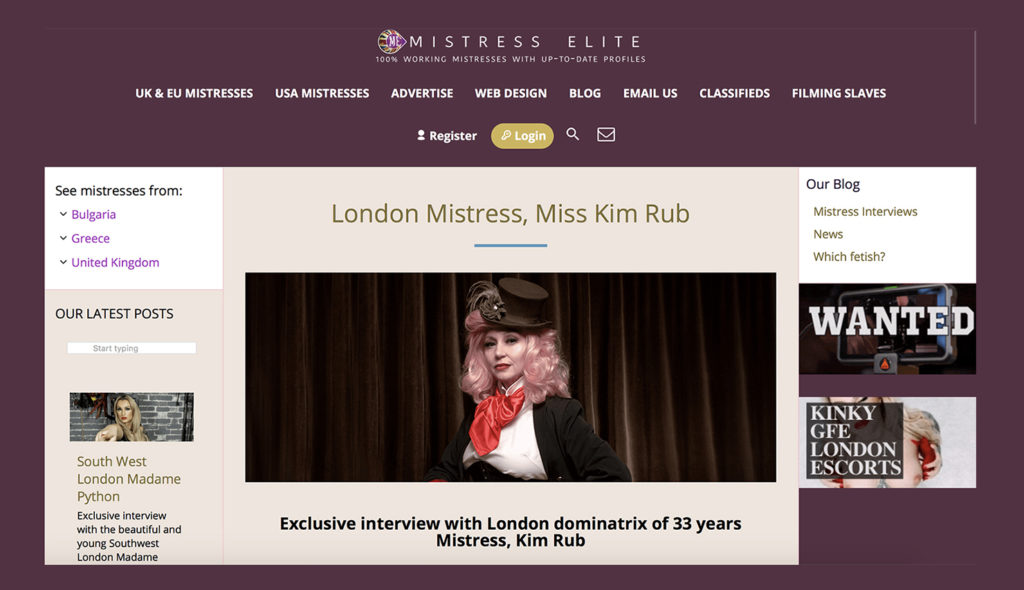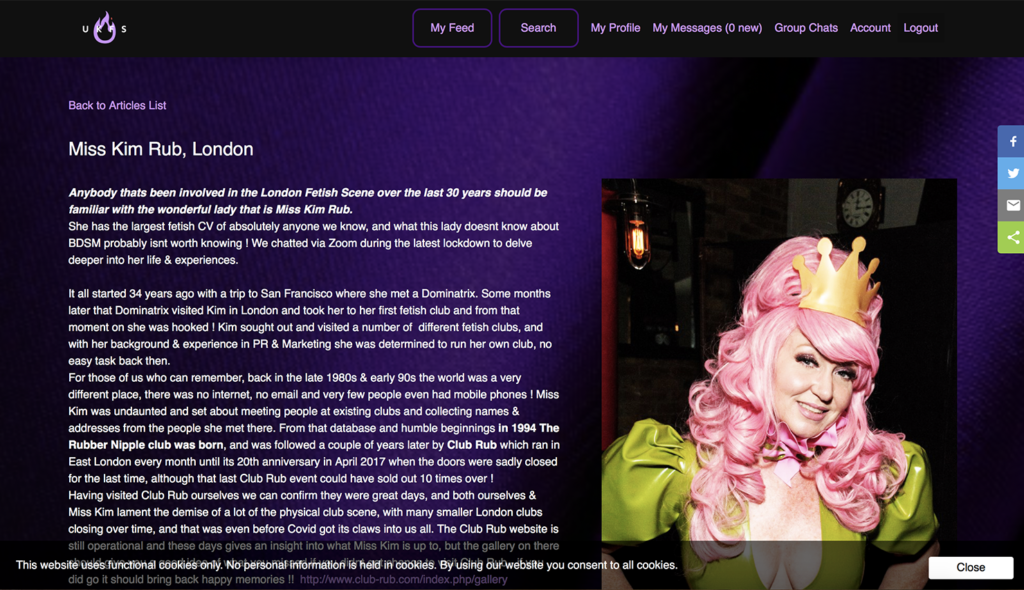 Video interview with Your Kinky Friends... "I've always loved a flogger, said Miss Kim Rub. She's is a legend in the UK rubber and BDSM community. We discuss Rubber Cult, rubber straight jackets, sissification, bodybags, creative nipple play, being a Fetish Technical Advisor on the film Preaching To The Perverted, homemade white rubber bandages, making rubber-clad mummies, and carving her initials into a...".
Glow West Podcast interview on Twitter and Instagram @glowwestpodcast Ep 56. I talk about rubber fetishism, and what it's like to work as a dominatrix, and how AMSR can be used in kink. Listen where you get your podcasts Apple: http://apple.co/361pK8N or Spotify: http://spoti.fi/2NxmPOc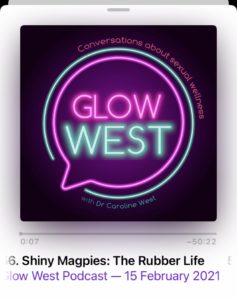 Pretty much becoming a reglar speaker at the Bishopsgate Institute I reatured in their Valentines Day live on Instagram.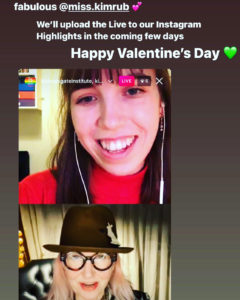 Recording artist can now be added, as I was the voice over of The Mistress - Single. Written by Kevin O'Dowd and Man Parrish.
Read my exclusive interview for @wearemiingle here.
My lovely friend Nigel May wrote all these books below, he told me I was the inspiration for one of the characters! Replying to my message @misskimrub "Yes you were! Deadly Obsession or Lovers & Liars I think. You are always inspiration! N x"
ASMR is and how it is incorporated in BDSM, read my feature on the SimplySxy site.
Expo Erotica Aug 2020 doing my workshop and Top Dommes Meet & Greet is CANCELLED.
Rose Talks Sex internet radio interview was fun during March 2020.
Interviewed March 2020 on Dommelinx.com with Dirk Hooper.
Consequently, as I have lived and worked in Shoreditch for over 20 years I was recently interviewed for local site Made In Shoreditch.
There used to e a coffee shop in the West End call Coffee, Cake & Kink. They filmed me...
MISTRESS REVIEWS AND INTERVIEWS - SOME PODCASTS TOO
Massad magazine interviewed me for their August 2019 issue of their hard-copy magazine.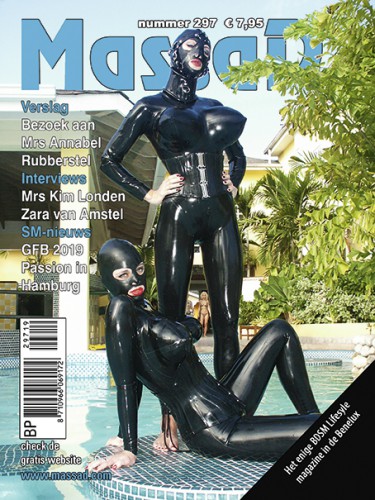 November 2018 I graced the cover of Darkside Magazine issue 14 and they did a pretty lengthy interview too.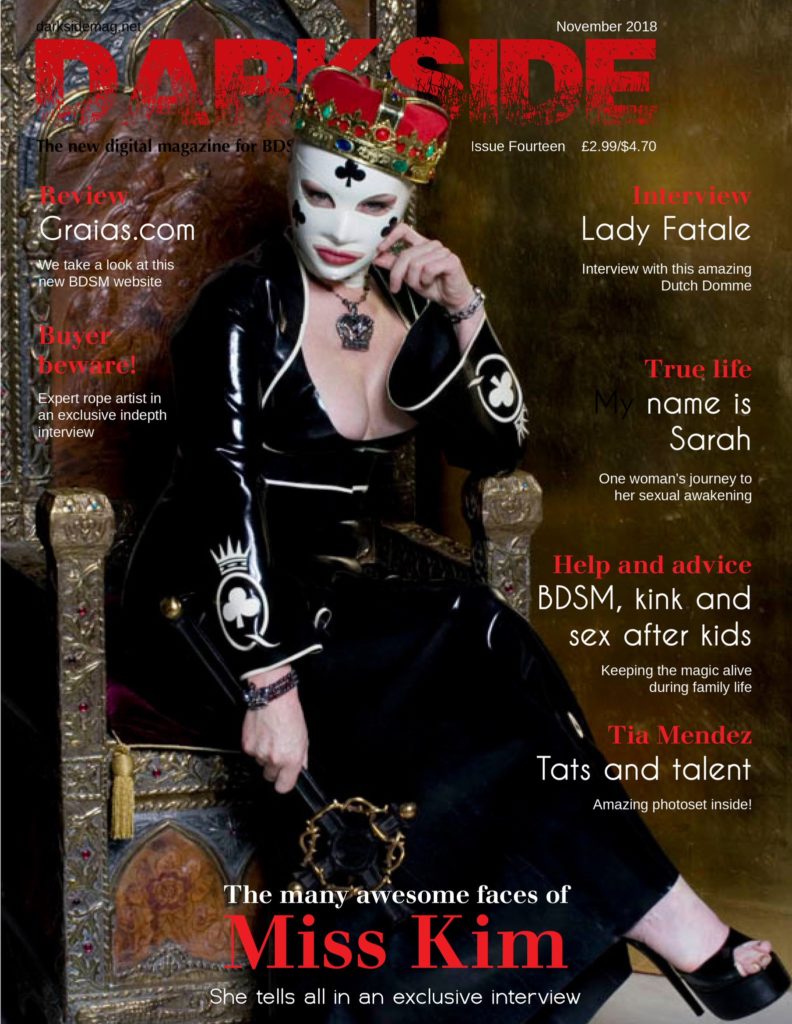 Also my mistress Workshop was featured in issue 12, along with a mention in a obituary about my dear departed friend Mistress Dometria.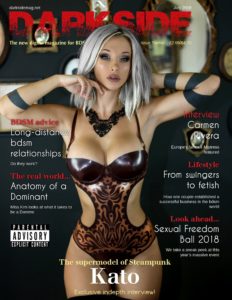 This Ripe Fruit episode 6 can be listened to on:
Photographed by Anthony Lycett for his book Self.Styled, celebrating individuality for the past 12 years. Buy Self.Styled book.
Happy to give some advice on how to properly handle wax in relation to the skin, for this feature below.
Loved doing this YouTube interview with Miss Marilyn. Such a darling girl and I was very candid with her. Excellent interviewer.
MISTRESS REVIEWS AND INTERVIEWS - SOME FILMS TOO.
Masocast is a USA podcast I was interviewed on.
Video interview I did with Tim Woodaeward for Skin Two below.
Interview on the Honour Clothing website as I did several workshop for them including Anal Play & Pegging and a Wax Play Workshop.
Over the years I have been interview for LatexFashionTV so many times. They documented Club RUB and Rubber Cult and the wonderful latex outfits.
Part of the Iconography Of The Mask weekend and I delivered a talk and an art project. I'm about 7 mins in below.
Prolific photographer Trevor Watson has taken many photos of me over the last 25+ years. Which means I'm in a couple of his books.
How exciting! Interview with me on British Fem Dom.
That's what they say.
Time Out review.
Read all about it! I'm up on Mistress Review with loads of client reviews.
Maria Coletsis took 1000's of photos of me over a 10 year period, then dedicated her book to me.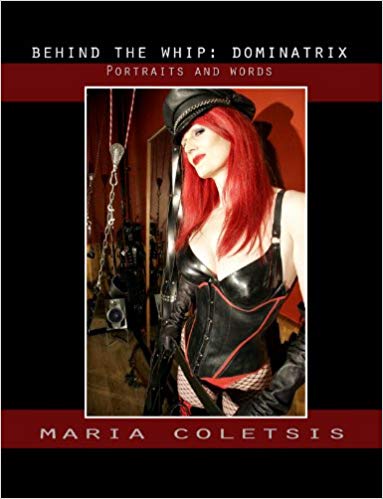 Writer too...as I wrote a feature in a magazine about style people in Shoreditch
Stylish as I am, I'm in a book from about about alternative style called Style Surfing by Ted Polhemus.
MISTRESS INTERVIEWS AND REVIEWS - STYLE ICON TOO.
This image is on the 'contact page' of Kinkey Interiors.
The English Mansion have been lovely enough to have reviewed and promoted a few of my projects like the archive of Club Rub in the Bishopsgate Institute.
Expro Erotica 2020 feature.
Interview I did for Tim Woodward for KFS Media.
My old Blog site.
Whoa! A 20 year old feature in the Skin Two magazine supplement Latextra...it was a huge birthday party I had!
It's going to take a bit more thinking about...I may come back to this and add more.
Photographs and films: want to see more of me via my clips site: OnlyFans
Tweet this Blog? Do it below!
Wish List is a great way to show your appreciation of my blogging. Amazon money gift cards are most welcome using kimrub@btinternet.com.
Important: the only way to book an appointment, or to ask questions is to call Miss Kim on: +44 7729 003220
Miss Kim x