Booking a session with this London latex rubber mistress with be a seriously kinky experience.
It's the ultimate fantasy, submitting to my beautiful rubber clad body, whilst encased in it yourself. Intoxicating latex scent fills the air, the mesmerising shine will hypnotise you and the sensual feel will send you into raptures. I will take you into my world of mind altering erotic sensational play. Surrender to me to fully experience the incredible experiences Every session is unique and tailored to your wants, needs and desires.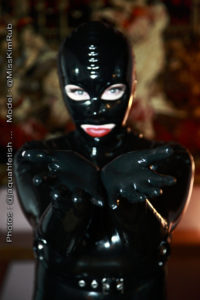 Huge collection of 15 rubber hoods, which means I get to play with your senses, taking you into sensory deprivation, light breath play and olfactory play...yes!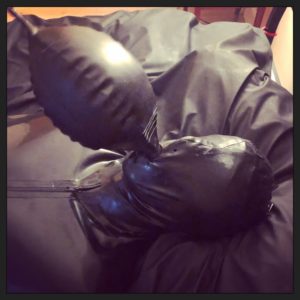 London rubber mistress for three decades now
Start your session in the rubber inflatable sarcophagus, it's stragegically placed holes over the faces, allows you to breath, and the opening over your cock means I can perform CBT play. Or attach the tremblr milking machine and leave you to have an orgasmic time.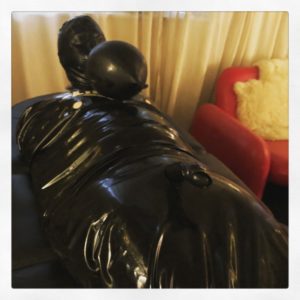 My second inflatable sleep sac is for the body only, which is great for swapping out any one of my various 15 hoods. It is also great if you are claustrophobic, and don't like your head covered, but love bondage.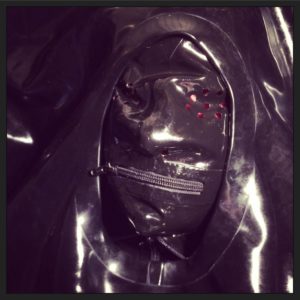 Body bags; one with a zip front and another with a zip back. I generally use the zip back one for when a client is face down and there is anal play. The zip front one is more for CBT, electrics and the Tremblr milking machine.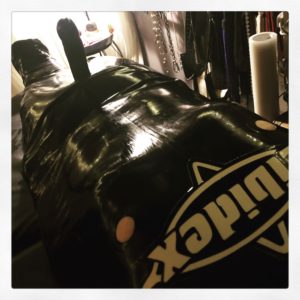 Two sizes of rubber straight jackets. The drama of a straight jacket is undeniable, allowing CP to take place as well as cock and all play/tease. Latex sheet layering, in many colours, can be brought into play as well as latex gags.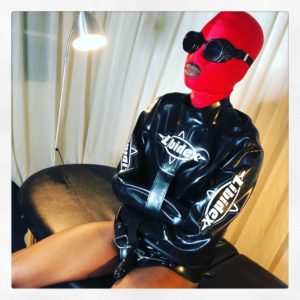 London latex mistress in East 2
Rubber toe socks and many rubber briefs in different combinations of rear entry and cock sheath, some with zips etc, are in my collection too.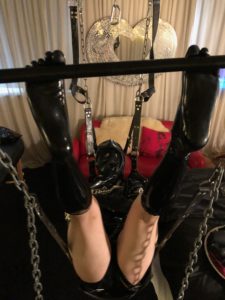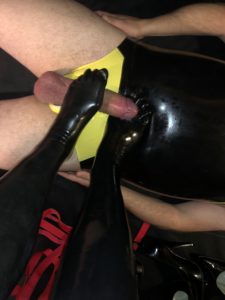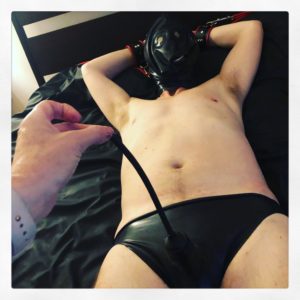 White rubber bandages means I can start at the top and wrap your head, working all the way down to your toes. Rubber rebreathers and gas masks. All latex deviants will be allowed to play.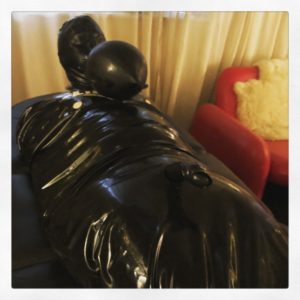 Arrive as a male and enjoy the session as a rubber doll. From boy to doll toy, helpless as the bigger the insertions, the more realistic the modification. Leave having become the ultimate rubber doll fantasy...plugged and stuffed. Controlling you is like directing a feature film and you are the staring role.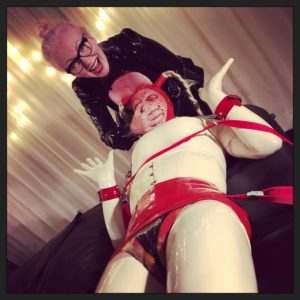 No heavy reathing restriction. No use of drugs. Just the pure delight of intoxicating rubber and sensory deprivation - AMSR/BDSM. A sensual journey. This isn't serious kit, this is latex loving fun...kinky rubber foreplay.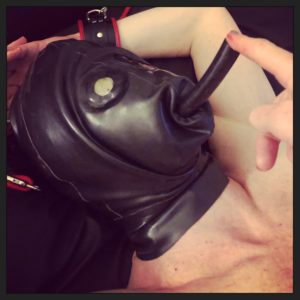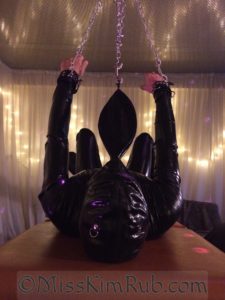 Join me, your London latex rubber mistress.
There are a couple of catsuits, however I encourage you to bring your own. Indulge in your rubber kink with me, your fully latex clad cult leader!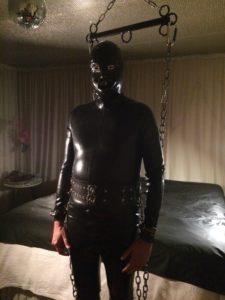 Subscribe to the weekly newsletter here.
Photographs and films: want to see more of me via my clips site: OnlyFans
Tweet this Blog? Do it below!
Wish List is a great way to show your appreciation of my blogging. Amazon money gift cards are most welcome using kimrub@btinternet.com.
Important: the only way to book an appointment, or to ask questions is to call Miss Kim on: +44 7729 003220
Miss Kim ?