Mistress Melia wrote this testimonial below, after using my place space to make content - films and photos. What a glowing report for my excellent studio hire package.
"As I'm already very good friends with Miss Kim, and was one of the first people to see her new play space. So I thought I would give her 'content making day package' a try.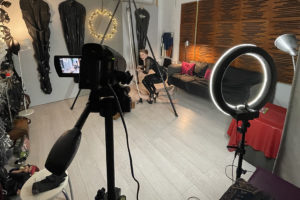 Two very good things about this package are Miss Kim does all of the furniture dungeon moving in the space, and sorts out the equipment requirements. It's the last thing you want to do in high heels and restrictive clothing. All I had to do was think about the film clips I wanted to do. Of course, I have my favourite BDSM activities, but the long day meant I could indulge myself. Miss Kim is also very generous with ideas and tips. I picked up a lot of useful information. Everyday's a school day. I also had a couple of requests from my filming slave, who incidentally paid the day rental fee. Win win!
A testimonial about the most excellent studio hire package
Actually, let's talk about that, it's only £200 for an eight hours day. About half the price of any other dungeon, and substantially cheaper than a film/photo studio, or an Airbnb. However, that's not what sold me, it was the fact that Miss Kim will take stills photos, lots of Boomerangs and presses play on the film camera. Having someone making sure the lights are in the right place, checking everything is in frame, making sure the camera is rolling, keeping an eye on the time, having someone tell you when something had literally 'dropped off', is invaluable. An extra pair of 'experienced' eyes!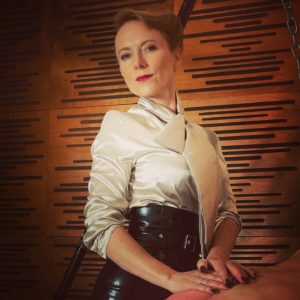 What is also great is that she doesn't interfere! She sets everything up, made sure I had everything I needed, and then either sat on her computer until we shouted, "this one is done!" or came back after an agreed time.
Of course, I had to take my own camera, memory and storage. Miss Kim does have a camera, she said I could use it, but holds no responsibility if it breaks down or malfunctions. It's always best to bring your own. She was happy for me to use her tripod. There are also two ring-lights, so I didn't have to carry mine, one less thing to bring.
Highly recommend is Miss Kim's excellent studio hire package
Tea breaks were up to me. I do love a breather, so we had quite a few. The tea is free, made by Miss Kim's own fair hands. I sent the slave out for sandwiches at lunch. I felt like the pressure was off, having a slave that paid for the whole day. He was happy as he got a full day rather than an hour…a very, very happy boy. Mind you, I nearly broke him. That's a long day…eight hours. He went home sore, but elated.
Huge amount of content was gathered in one day. When I do it again, I will come a tiny bit more prepared and get twice as much done. It's hard work but worth it for only having to do one day, instead of lots.
Not wanting to spoil it, but I've included a few of my favourite memories from the day; CP, predicament bondage, CBT and needles etc. If you want to see any of this I'm on AVN for only $10 a month. As I post each clip, it's announced on my Twitter. Sometimes on my Instagram too.
Miss Kim is actually an excellent photographer too. We got so many great images from different angles. These are just a few on here. I actually kept the best ones for my own social media. So keep a look out for them.
I shall be blogging about my experience on my own site, but for now I would just like to say thank you to Miss Kim for an excellent day, a brilliant service and best of all, for offering to put my testimonial on her site. Any publicity, is good publicity and all that!
Love Mistress Melia ?"
Subscribe to the weekly newsletter here.
Enjoy what I do? Then please support me on Ko-fi and buy me a £5 coffee!
Tweet this Blog? Do it below!
Wish List is a great way to show your appreciation of my blogging. Amazon money gift cards are most welcome using kimrub@btinternet.com.
Miss Kim 💋