The very first event took place in the beautiful Derbyshire countryside under the amazing management of the tireless Mistress Tess.
I loved it and would like to say thank you Gynarchy Governance for asking me to attend.
Due to the pandemic, it's been a long time in the making, as it was supposed to happen in May 2020. However, it was well worth the wait. Mistress Tess was joined by a stunning line up; Ava Von Medisin (below) Helena Locke, Mistress Clarissa, Mistress Bliss and myself. Plus the wonderful service slaves that attended to our every need. I became very fond of quite a few of them, in such a short space of time.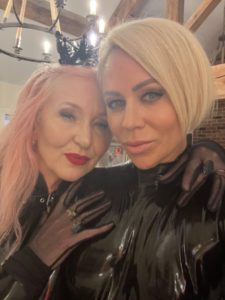 Huge thank you Gynarchy Governance
The set up started days in advance, and as I have put on one or two event before, Mistress Tess asked me along to help out. The rest of the ladies arrive on the Thursday night, so that we could all be ready for when the boys arrived on the Friday lunchtime.
Events pop up all the time, but not of this quality or scale. It is tailored to goddesses and their wants, needs and desires. Only boys who are into total servitude, reverence and high level of worship should apply. A high protocol event. Slaves were given a chain collar and padlocked in. The also slept in a 6ft cage, with minimal comforts. Not all applicants get chosen. And only the strong survive to tell the tale.
Bang! Friday afternoon and we went straight into play. I had two slaves as I knew I could handle two, and so did Mistress Tess. I loved all the boys I played with over the weekend, not wanting to name names (but you know who you are!).
"Hail Gynarchy Governance"
Service orientation was the main theme of the event, however we were also allowed to do whatever we liked…I like to play, so that's what I did. I think my boys on Saturday and Sunday were the only ones that came 💦💦💦 all weekend. I love a happy ending.
Saturday afternoon was filled with military games; assault course, target practice and of course, the outfits for the job.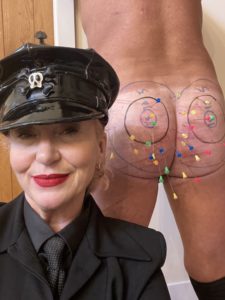 All our food was prepared by our head-cook Sissy Jessie and the cuisine was predominantly Indian based. It certainly was restaurant quality food the whole weekend.
Gynarchy Governance is a service orientated weekend
School games on the Friday, military games on the Saturday, however, the piece de resistance was the Gynarchy Queens of the Round Table ceremony on the Saturday night. As you can see we all wore the same beautiful red hooded capes and crowns. Each slave came forward and pledged his allegiance to the Gynarchy Governance and will be forever be known as the number he was given at this first event.
Departure was on the Sunday, but not before we had one last interaction with a slave. This time it was not a raffle, but we got to chose. It ain't over till it's over, and my last slave session was memorable.
In conclusion, I'm hoping to get an invitation to the next one. If not, it will live in my memory forever. "Hail Gynarchy"
More details about Gynarchy Governance from my previous blog here.
Want to book a session with me? Call me for rates on 07729003220 - don't text, call!
Enjoy what I do? Then please support me on Ko-fi and buy me a £5 coffee or two!
Purchasing something from my Wish List is a great way to show your appreciation of my blogging. Amazon money gift cards are most welcome using kimrub@btinternet.com.
Important: the only way to book an appointment or to ask questions is to call Miss Kim by calling on: +44 7729 003220
Miss Kim 👠👠💋