January is as good as any month to start your maid in training, especially if you are at your second home in Spain, like I am!
First day of Maid In Training, is always a day of adjustments. Routine is the key.
First day of Maid In Training. Day one: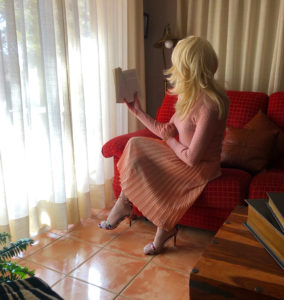 Plain Janes must be up and ready for me. Inspection of the maids attire and appearance before the day commences. Black satin maids dress, flats and black wig. I instructed her to look in all the draws and cupboards, to frequent herself with where everything is kept. No unnecessary questions! Make a note of provisions needed for the day. Misinformation was reason for one punishment...6 lashes. Plain Jane had been sent to the supermarket the day before, but requirements change. I require very little in the morning except tea, quiet, and limited questions. What I had was excuses and answering back. This was the reason for the next punishment...6 lashes. The smallest room in the house was the first to be cleaned throughly. When the task was completed the white cotton gloves went on and the job came up clean!
After lunch the maid was allowed to change attire and Beverly checked her emails as a reward for doing a good job. However, a small task had been missed thus resulting in another six lashes added to the list. Supper with Plain Jane was delicious and plentiful.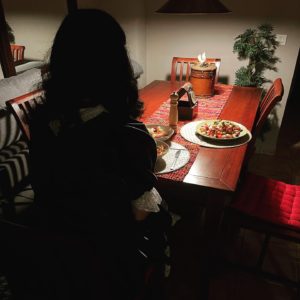 I decided my secretary was treated to the evening on the sofa filling up my Amazon Music playlists. The accumulating punishment lashes will be metered out at the end of the week.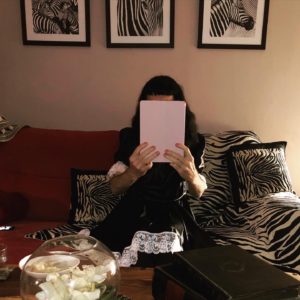 Maid In Training. Day Two:
Routines are established by the second day. First thing that happens is the maid gets locked into her maid dress.
My breakfast Earl Grey tea was made and served. First task of the day make my bed. Then clean the bathroom throughly, including the inside of the shutters. This was done to perfection. Plain Jane loves it when I check her work with the white gloves. We walked to the local bar/cafe for lunch but it was closed, so the maid made us lunch. 
As a treat Beverley was allowed out for the afternoon wearing her leopard spot dress I had given her for Christmas. 
Maid In Training. Day Three:
Routine so far. Dress locked. Tea served. Tidy house. Wash dishes.
Went out on my trusty steed AKA my electric bike to the bank. However, I had to walk back as the wind was so strong, I couldn't ride my bike! Plain Jane was half way through her lounge/dining area cleaning task but failed, and was released for the day, as a punishment. Day three was aborted. Punishment for non completion of todays task x 6 lashes, and breaking my vase x 6 lashes.
Maid In Training. Day Four:
Routine started well. Dress locked. Tea served. Tidy house. Wash dishes.
Today's task involved the thorough cleaning of the kitchen from top to bottom. The white checking gloves where not needed as trust has come into play.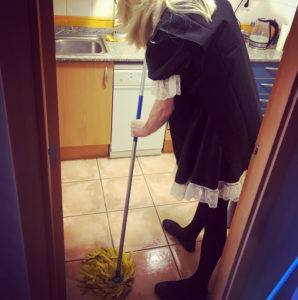 The maid showered and then prepared her face for a make up lesson. Beverley attended in a pink outfit. To my surprise, she picked it up very well! Sitting pretty with that banana. It all got washed off then we went for supper at the local bar.
Maid In Training. Day Five:
Routine going well. Dress locked. Tea served. Tidy house. Wash dishes. My bed made.
The maid cleaned her own room today, including the windows. All windows were checked and cleaned. Then send outside to sweep the patio.
Lunch prepared. My bath was run, and I had a pamper afternoon.
After lunch she was given a make up application test. Once the make up had been applied to my satisfaction, Beverley was allowed to enjoy her book on the sofa for the afternoon. 
Supper of egg on toast was prepared by myself. Beverley had pizza. We enjoyed an evening of classical music chosen by myself.
Maid In Training. Day Six:
Maid sent to clean my bedroom and then gardening on a very cold blustery day! Another make up application test. Once the make up had been applied to my satisfaction Beverley was allowed to indulge in dressing before we went for supper. We went out to eat and listen to live music at our local bar/supermarket in the evening.
Maid In Training. Day Seven:
Long walk to get a rotisserie chicken for lunch. Popped in to the supermarket to get bread for the journey home on Monday.
Thank you to my dedicated and loyal slave R. AKA. Plain Jane AKA Beverley for a great trip, good company and a very clean Spanish home.
Want to see more photographs and films of me? Do that via my LoyalFans site.
Enjoy what I do? The please support me on Ko-fi and buy me a £5 coffee!
Tweet this Blog? Do it below!
Wish List is a great way to show your appreciation of my blogging. Amazon money gift cards are most welcome using kimrub@btinternet.com. Because giving fills you with joy.
Important: the only way to book an appointment or to ask questions is to call Miss Kim by calling on: +44.7729 003220
Miss Kim Rub  💋