Want to learn how to become a dominant? Make it your New Years resolution to take the Mistress Workshop.
Covering all the aspects of BDSM in the Mistress Workshop 2020 dates.
IT'S ALL ABOUT LEARNING HOW TO BE CREATIVE, EXCITING AND FUN, IN A SAFE WAY.
Only £150 for a five hour class. Secure a place with a £50 deposit for the Mistress Workshop 2020 dates.
Workshops also on May 9th, Jun 6th, Jul 4th, Aug 8th, Sep 5th, Oct 3rd, Nov 7th & Dec 5th 2020. Ticket links coming soon.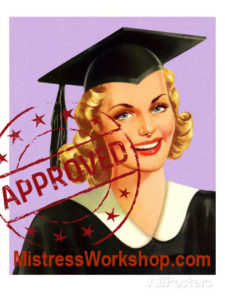 As well as the Mistress Workshop 2020 dates, two hours workshops can be arranged during the week.
Additional two hour workshops on Wax Play, Anal/Pegging class, Impact/CP play, Needle Play and Social Media Marketing workshops are £100 each.
My credentials go back nearly 26 years.
Photographs and films: want to see more of me via my clips site: OnlyFans
Tweet this Blog? Do it below!
Wish List is a great way to show your appreciation of my blogging. Amazon money gift cards are most welcome using kimrub@btinternet.com.
Important: the only way to book an appointment, or to ask questions is to call Miss Kim on: +44 7729 003220
Miss Kim x