Japanese is a premium bondage and fetish brand - Liebe Seele
Femme Domme club Pedestal is coming up on November 25th 2021, and I haven't been for a very long time, so I thought a visit was in order.
New leather outfit was ordered...and a new lightweight BDSM kit!
Hurrah, it has arrived. So, it's very handy as it's small enough to pop in my bag, and always have ready for clubbing.
Liebe Seele is the perfect choice for a clubbing bondage kit
Liebe Seele bondage products are handcrafted by seasoned craftsmen. Most of their products are made in leather, however in order to keep the kit lightweight I went for the PU Chagrin (faux stingray skin) in grey. This also meant I could cater for vegan clients.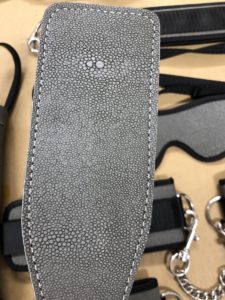 Liebe and Seele are two German words which mean "the love of soul" when they are combined. A German friend of the Japanese designer Imoto, recommended the name to her after the friend was so excited to see the new designs by her. The friend reckoned the products must have borrowed inspirations from the "love" of "soul".
Love of soul is what Liebe and Seele means
Even though the kit is PU and not leather, there is still the high-quality that you would expect from this company. My first Liebe Seele bondage set was red leather Oxblood. I use it all the time and especially like the leather covered leg/arm spreader, as they are not usually leather cover.
Liebe Seele fetish brand has thought about safety
Another thing to consider with this kit is the health and safety aspect, as the cuffs are velcro, which means they can be taken off quickly. So as you can see there are ankle and wrist cuffs, ball gag, collar and leash, paddle, whip and eye mask.
Great also for a first time kit as it has all the basics. If indeed you are further into your BDSM, you could have something custom made with your favourite combination of leather, stitching, lining, fasteners, accessories, metal accessories, etc. They will make you unique original items. Perfect for the mistress, slave, gilfriend, friend and other-half in your life.
Photographs and films: want to see more of me via my clips site: OnlyFans
Enjoy what I do? Then please support me on Ko-fi and buy me a £5 coffee or two!
Purchasing something from my Wish List is a great way to show your appreciation of my blogging. Amazon money gift cards are most welcome using kimrub@btinternet.com.
Important: the only way to book an appointment or to ask questions is to call Miss Kim by calling on: +44 7729 003220
Miss Kim 💋