Mistress studio hire testimonial from Sophia Sahara, who wrote this after using my place space to make content for three separate days in March 2022 for films and photos.
"I met Miss Kim at her Queen Bee Society Cream Tea with Electrics Workshop, and got to see her new play space, which is not yet a year old. I loved it so I thought I would give her 'content-making-day package' a try. Then write a Mistress studio hire testimonial.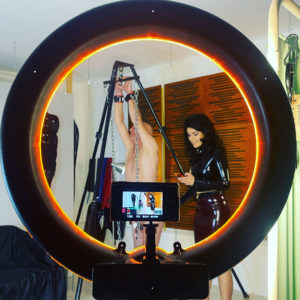 All I had to do was come equipped with my favourite BDSM activities scheduled, oh and the right slave or three (I did three seperate days!)
The worse thing about filming is moving everything around and doing this in tight restrictive clothes and very high heels. Miss Kim does all the furniture rearranging in the dungeon, and sorts out getting the recording equipment in the right place.
Mistress studio hire is excellent.
Past venue day-hires have cost me a lot more than £200. With the added bonus this was for eight hours. That's only £25 ph. Less problematic than an Airbnb. Miss Kim is in London E2 which is a short commute from mine, so very handy. However, that's not what sold me on the three days...what it was, you get Miss Kim too!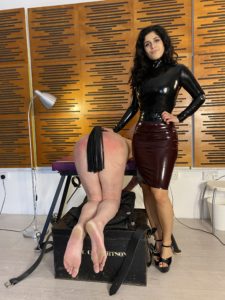 Happy to write the studio hire testimonial for Miss Kim
Miss Kim takes stills photos, lots of Boomerangs and presses play on the film camera. She makes sure the lights are in the right place! Checks everything is in frame. Let's me know if my camera has run out of memory or battery. Keeps an eye on the time. Keeps an eye for when something has slipped out or dropped off! An extra pair of eyes basically.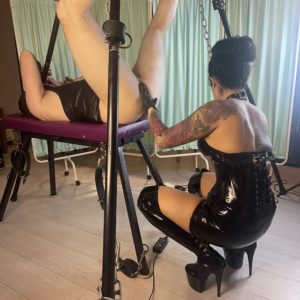 It was so much fun. So much so, that Miss Kim has invited me back to film with her and her favourite slave...does that mean she was impressed with me? Anyway, I'm flattered."
Sophia Sahara Twitter.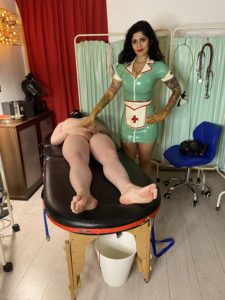 Previous testimonial by Mistress Melia.
Tweet this Blog? Do it below please?
Wish List is a great way to show your appreciation of my blogging. Amazon money gift cards are most welcome using kimrub@btinternet.com.
Important: the only way to book an appointment or to ask questions is to call Miss Kim by calling on: +44.7729 003220
Miss Kim 💋