New maid arrived on time. She is called Maid Vanessa and we started right from the beginning, even though I know this maid has served others before me. However, from today the maid will follow my protocol, and my rules for my East London maid training.
First things first, payment was done. All maids must pay to clean. This is negotiated at the beginning, and the tribute will depend on many factors.
Maids outfit and wig below. I like a traditional maid, and not a naked butler.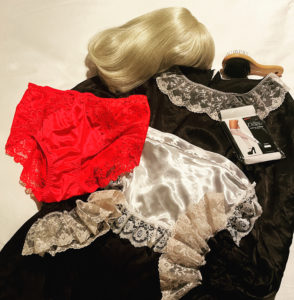 Second task is to teach the maid how I like my tray of tea. So that when I ring the bell, I know it's on its way. Freshly drawn water, teapot, bone chine teacup and saucer, milk jug and sugar bowl, all on a tray.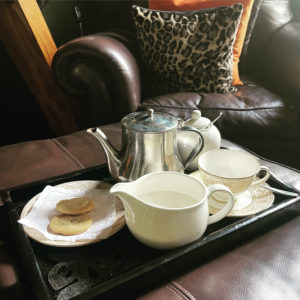 East London maid training starts with tea
As it was her first day, I allowed the maid to have a mug of 'builders tea', whilst discussing the list of jobs, and how she will receive an immediate treat after the completion of each task. There till also be a small financial discount for the next cleaning session, if the job has been done well.
Certain items in my home must not be touched; my bed, red leather sofa and custom matching mirror and side table in the bedroom. In the kitchen; the shelves have far too much on them, so this is more of a project! Nothing delicate in the bathroom! In the lounge; the three Venetian mirrors must not be touched. The 1950's bar is OK, so long as it is not lent on! My office is NOT to be touched or entered. The stairs and halls are OK, as to is the dungeon. However, care must be taken around my new mirrors.
My rules for my maid training
Maid Vanessa started at the top and worked down. The first room completed was the bedroom. The maid received the first chocolate treat. She gobbled it down, and attacked the bathroom, eager for another treat.
Training a maid is pretty much like training a dog. Praise and reward. Of course, you could use fear. That might depend on the maid. Or the mistress!
When all the time had run out for cleaning, I gave the maid 6 out of 10. Definite room for improvement. Dungeon time meant I was able to punish my new maid for a few mistakes and missed dirty spots! A good flogging ensued. Also an introduction to electrics which went down well. It was then that Maid Vanessa admitted to enjoying the cleaning of the toilet, "it turned me on Mistress!" Dirty little slut. I turned the electrics up till she squealed.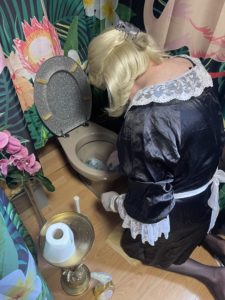 In conclusion, the maid has been encouraged to booked for late June, early July, as my Sissy Slut will be able to come along too. Naughty!
Photographs and films: want to see more of me via my clips site LoyalFans.
Tweet this Blog? Do it below!
Wish List is a great way to show your appreciation of my blogging. Amazon money gift cards are most welcome using kimrub@btinternet.com.
Important: the only way to book an appointment, or to ask questions is to call Miss Kim on: +44 7729 003220.
Miss Kim x