First time at Le Boutique Bazaar and I've definitely been missing out, as there are lots of great stalls and loads of people to chat to. They have a bar and lots of seating in this plush 'gentlemans' club (by night).
Well worth a visit for their XXXMAS event on Nov 26th, the last of 2023 and a great opportunity to get gifts, and treat yourself. There will be additional focus on gift items for Christmas. More Info visit the site or email: leboutiquebazaar@gmail.com
Dates are found on Instagram, Facebook and the mailing list link on the website.
FIRST, let me tell you about my monthly Mistress Workshop on November 25th in Shoreditch/Hoxton central London E2 for only £200, for a five hour class. Now in it's 12th year. It covers everything you need to know to start your journey into being a powerful Fem Domme either lifestyle or as a professional. Workshop tickets.
The market is and co-run by Charlotte Heti of Torture Garden and Glamourtits. However, the online store CharmSkool Shop is run by Mistress Sugar Houston aka Glamourtits, who is also a budding blond-bombshell pro domme.
To shop, head to the LBB market in Old Street, dates on their website, and don't forget to add yourself to their mailing list. This gets you access to early-bird tickets, an advance look at the line-up of who is trading, plus exclusive discounts.
Take a look for Charm Skool Shop for sneak peeks online, or when you want to browse at home. Many intriguing, unusual, underground and erotic clothing and accessory designers.
Le Boutique Bazaar is a regular very-friendly fetish/kinky market
Fetish scene regulars and mistresses will find this is the perfect spot to buy, or commission a unique piece. Either for the dance floor or the dungeon.
Goldmine of avant-garde couture items, from custom and off-the-peg latex to luxury leather, to hand made lingerie to extravagant millinery/headwear...and everything in between...like impact toys, corsetry, art etc.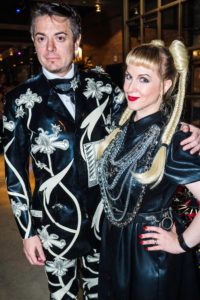 Le Boutique Bazaar will see the creme-de-la-creme of London's alternative/fashion/fetish scene
Epic shopping experience unlike any other, with an abundance of stalls. My purchases below and some absolute favourites are:
Fetish Daddy. Amazing leather pieces. Great stall. Loved this winged credit card bag...which is all you need for a night at TG. The mouth-stitched half-face gag is going straight in my studio. Also winged wrist cuffs are great for clubbing.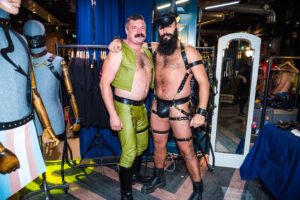 2. Ectomorph Latex. They have truly unique latex pieces. This is because the owner/designer has amazing designs but the fact that the majority of pieces are stitched. Her trademark padded effect pieces are seen nowhere else.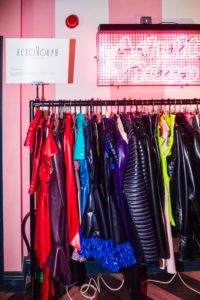 3. Prong. Uber creative jewellery with a fetish flare. The new collection Poison is adorable and comes in five colour ways. Plus designs in bangles, earrings, nipple covers, bags, hair accessories and cufflinks.
4. Anna Dominoes Millinery. Anyone who knows me well, knows I love a hat. I picked up this cute beret with the creative red-rope knot on top.
What would your edit from Le Boutique Bazaar look like?
5. Kraken Counter Couture. Not sure I got the right colour bunny ears for my wardrobe, but this pink is very, very fashionable at the moment. Maybe red is more my colour.
6. Provocateur. Love this animal mask. I think It' a cat but I suppose it could be a few different animals. I have a white leather bunny mask which I've had for years and use all the time, so thought this one would be perfect for my fetishy looks!
7. Trolley Vinyl. A shiny black belt-pouch for when you don't want to take a bag to a club. It's a decent size and is unisex too! Can be worn on your waist, chest, leg or arm. They have lots of different colours too. Maybe I will get another and den this in the picture. OhMyGosh that means the body harness too. But that would look great over latex (or a white shirt) and doesn't need shining!
8. Amentium. This cape is not really a cape, but a circular skirt, which is a great trick if you already have a circular skirt. You may need to clip it underneath and at the back, to make the neck a little tighter. I particularly like the laser-cut graphic overlay on the transparent latex panel. They have tons of latex stuff to choose from, so do I which is why this was a great find. Lots of pieces are one-offs so it's really worth going to the bazaar.
9. Branded. These laser cut symbols leave a delicious mark on the skin, and I simply had to choose the crown design. Wish they had a queen bee, so I could leave two marks. This guy was so nice.
Here is a shot of my shopping haul. Did I over do it?
In conclusion, don't wait as long as I did, to make your way to the Bazaar. Plan a trip to London. Meet friends there, as it's a great day out. The event is co-produced with fetish club Torture Garden and Glamourtits who runs CharmSkool Shop.
Lastly, who wants to meet me there in November? Someone with deep pockets please?
Please subscribe to my monthly newsletter which is always out at 8am on the first of the month.
Tweet this Blog? Do it below!
Photographs and films: want to see more of me via my clips site LoyalFans.
Wish List is a great way to show your appreciation of my blogging. Amazon money gift cards are most welcome using misskimrub@btinternet.com.
Important: the only way to book an appointment, or to ask questions is to call Miss Kim on: +44 7729 003220.
Unique to me is my linktree - a one-stop-shop for ALL my 26 links!
Miss Kim 💋