Just got my first couple of testimonials for my Mistress Workshop ONLINE!
Skype workshops were already part of my workshop options. However, once the lockdown in UK (and worldwide) had begun, I rolled out a more dedicated online service with Zoom online. Zoom is very similar to Skype however, they are geared towards conferences calls and teaching platforms.
Every other Saturday I will offer a Group Workshop at the usual monthly (Saturday) group price of £150. Next Mistress Workshop ONLINE is April 25th 2020.
This will be geared towards the home user. I do however discuss all type of domination, professional, lifestyle, online domination and financial domination to name but a few. 
I will be encouraging those wishing to become a professional dominatrix to go for the one-to-one option, as I will need too teach you how to set yourself up.
Alternatively, you could take the Group Workshop and then opt to take my Social Media class, which is £100 for a two hour session. One-to-one workshops will remain the same at £180. These I can do anytime you have a free four hour period. Please email me if you have any questions misskimrub@btinternet.com.
Of course, I'm happy to answer all your questions including; setting up your own space, or using a rental, building a website, marketing, PR and advertising, travelling and etiquette.
I'm confident in my teaching approach, and know of many ladies who have gone on to have fulfilling FLR (Female Led Relationships), well known in the community and become full or part time dominatrices. My hundreds of 'Testimonials' give you an idea of, not how many ladies I have taught, but the impact I have had on their lives.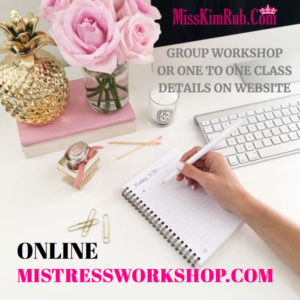 Testimonials help you decide if you want to join my Mistress Workshop Online.
The most amazing part of this situation we find ourselves in, it has connected me with students around the world, as seen below.
TESTIMONIALS:
Testimonial 1: I had the pleasure of meeting and spending the morning with Miss Kim learning domination, discipline and desire in her Mistress Workshop. Definitely, a must for those interested or just curious about the world of BDSM. I certainly was and by taking her workshop, it gave me inspiration to want to explore it even more. Thank you for sharing your wealth of knowledge!
Mistress Desi  
Another one for my Mistress Workshop Online.
Testimonial 2:
I took a 4-hour online Mistress Workshop with Kim and I really didn't know what to expect, but the time flew! Kim is so fun, friendly and informative - her creative and playful personality shine through, even online, and the support, tips and tricks she offers are very inspiring. I'd recommend anyone wanting to further their knowledge in BDSM topics to give her a call.
Mistress Tess in Spain
More Group Workshop dates on the site or do a 1-2-1 with me any day of the week. Photographs and films: want to see more of me via my clips site: OnlyFans
Tweet this Blog? Do it below!
Wish List is a great way to show your appreciation of my blogging. Amazon money gift cards are most welcome using kimrub@btinternet.com.
Important: the only way to book an appointment, or to ask questions is to call Miss Kim on: +44 7729 003220
Miss Kim x