At last! Rubber Cult returns on October 23rd 2021 at Simon Drake's House of Magic from 6pm to 12.15am.
The most amazing venue in London, and now it's permanent home.
Rubber Cult Halloween Mad House. Rubber madness with Miss Treatment & Doctor Strangelove. Stage shows and side shows at the House of Magic close to Kennington Tube (address given at the time of ticket purchase).
Tickets are NOW on sale £35 each. Limited numbers - ACT NOW. Pizza available as an advance purchase. If you didnt receive a refund for the last event, go look in your spam as the ticket agent has messaged you. We do not handle or receive your money until after the event has HAPPENED.
Rubber Cult History:
Two and a half years ago now, I had a post-event meeting with my Rubber Cult partner Cynth, where she told me she was leaving and no longer wanted to be a part of our event. In fact, she had a very good reason to leave, she wanted to now pursue her own art career.
Rubber Cult was never her idea, she had come straight out of university where she studied contemporary art. The idea for a rubber-only event was only ever mine. I hijacked her career path. I wish her the best. We parted on the best terms, in total agreement.
THE RUBBER CULT CLOSURE WAS NOT WHAT I WANTED
Anyway, eight months after Rubber Cult closed down, I was at Simon Drake's for lunch (he's a very dear friend of mine) and we talked about how Cynth had suddenly left, and I felt I had no other option than to close down. We had previously used Simon Drakes House of Magic a couple of times, so Simon said let's do it together. I agreed. There was only a one year gap before it restarted.
Rubber Cult returns Oct 23rd - TICKETS
This brings me nicely to the story of Rubber Cult. Firstly, how the name was chosen! Fortunately for me, my dear old friend JanFetishClubPix already had the domain name Rubber Cult, and instantly said he would love it if it got used. I can't lay claim to coming up with the name, but everything else I can.
If you were wondering what the Semana Santa (KKK look) photo is all about, it's how I suggested we started the event of, with some performance art at Antichrist (me below) and Torture Garden. It was called the 'Penitential Order of Rubber Cult', a performance group, and that's how we got the name out at two very large fetish event audiences.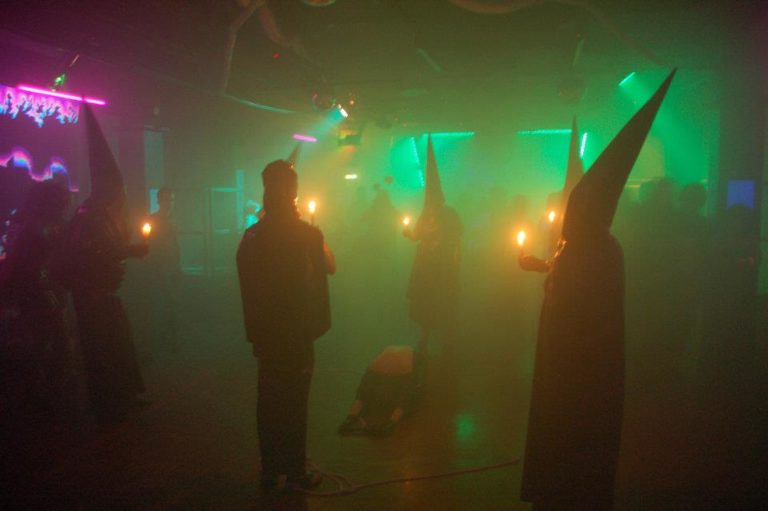 My idea was to invent a brand new format in fetish clubbing; rubber ONLY! No DJ's and running till the early hours, but from 8pm till 2am. My unique ideas. I'd pretty much planned it all out, when I asked Cynth if she would like to be my partner. Even though she was a lot younger than me, we were in this together, and that meant 50/50 split on everything.
With no regular day-job for either of us, we had to make this work. However, Rubber Cult was very affordable. I would have never wanted to run a small event, but RC had to be a certain size to sustain both of us. Club promoting was not my hobby. It was my day job, as I already had Club RUB for 17 years by then. We were just a small independent enthusiast-run event. At under £30 in central London, with that much going on, it was a bargain.
Rubber Cult returns TICKETS for Oct 23rd
Every venue we ever used, I had found and secured with my expertise. With my history in fetish club promotion on a monthly basis, they took me seriously. Some had even heard of me. Reputation is everything. The first venue was Shillibeers and I had known the management 15 years. Perviously using one of their venues.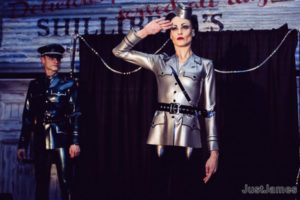 Plus I had a huge database of email addresses, from running Club RUB (at that stage 17 years) on a monthly basis. It's very easy to think an event can be launched on the back of social media mentions, it's another thing to achieve it. Saying that, there is always a place for smaller events.
RUBBER CULT RETURNS OCT 2021 BUT THE CLOSURE HAPPEN ON FRIDAY NOV 9TH 2018.
First logo design was from my darling friend Juju, an extremely talented and pervy artist. The second one we chose together, as we wanted something simpler to add to photos.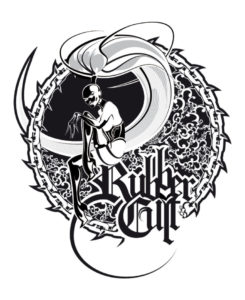 Fashion shows we always going to be a major part of the night, we are rubber lovers for goodness sake! We tried our best to use UK designers only, although Sebastian Couch and Exxess Latex got in. Well, they are amazing. Breathless, House Of Harlot (Robin Archer), Dayne Henderson, TripleL, Libidex, Latex101, Cause Perdue and House of Harlot (Iris), to name but a few.
RUBBER CULT CLOSURE WAS MET WITH MANY SAD BUT LOVELY COMMENTS ON SOCIAL MEDIA
Each of our performance artists were require to do rubber-only shows; Charlie Bouquett, Marnie Scarlet, Apple Tart, Marie Devilrous, Fallen Angel, Lady Lola, to name but a few.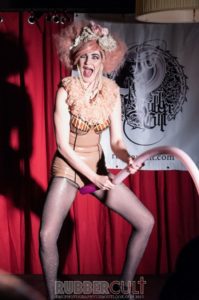 My stash of 'club' dungeon equipment meant that we didn't have to think about that, when starting off. Sideshows were a main feature right from the early days - from the mattresses, to the vac cube, inflatable body bag, straight jacket and later to the Libidex rubber bed. Mostly mine with the exception of the vac bed.
Important to us was something else going on extra to the stage shows, like my medical installation and dungeon. For these we needed a team of helpers like Miss Sensation (below), RopeSluts, Mistress Silk and Miss Kitty Bliss, Pussy Willow and Mistress Phoenix in the dungeon.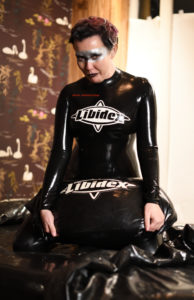 Art and culture were a huge motivating force that we both shared. Even making rubber art for one event. We featured many amazing artists and TOGS that had dedicated their body of work to latex. Artists like; Benzo, Michelle Mildenhall, Beverly Carmichael, Valerian de Thorianie and Gernot, who featured in our 20 x A4 frames.
WHEN THE RUBBER CULT CLOSURE WAS ANNOUNCED ON SOCIAL MEDIA, IT BROKE MY HEART.
Every event there were lovely free gift as you came through the door; rubber ducks were quite a theme and we had them as keyring, chocolate, badges, candy…etc. Something that has now become a collectors items are the commemorative plastic cards!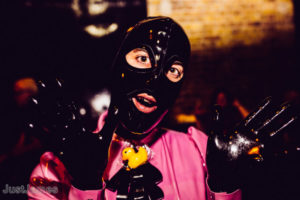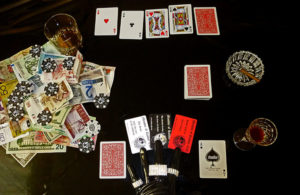 How I managed to talk each venue manager into letting us bring bottles of Cava to give out free of charge, I will never know!
Each amazing image was carefully chosen, using the very best TOGS and models. I approached each TOG, as I designed each flyer. Skilfully I would add the text and write the accompanying newsletter. I didn't write the blogs however.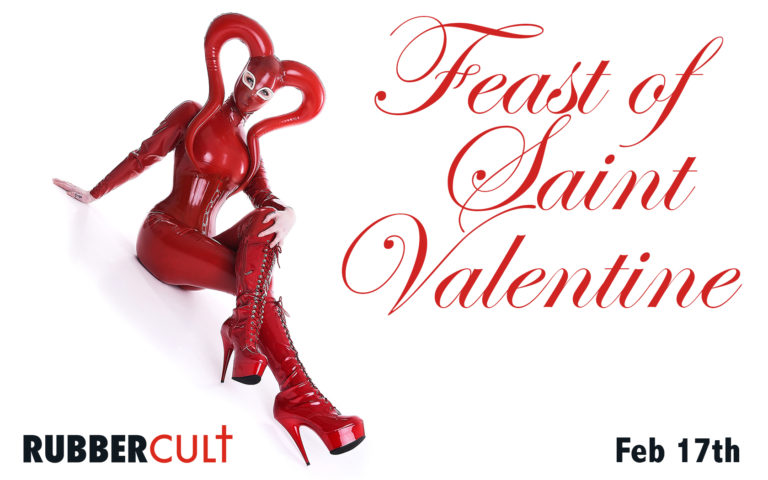 In conclusion, it's the people are what makes any event. We has the BEST people ever at Rubber Cult. Viva la Rubber Cult!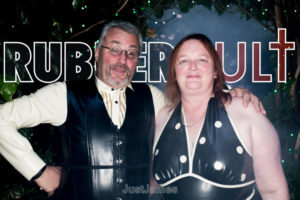 Therefore, some changes have had to be made for Rubber Cult to exist at the House of Magic, due to no back stage we can't have fashion shows, there is limited space generally...so we have had to modify things. On the plus side, this amazing venue more than makes up for the things we can no longer do.
P.S. Before October there should be a Libidex SALE.
Subscribe to the weekly newsletter here.
Photographs and films: want to see more of me via my clips site: OnlyFans
Tweet this Blog? Do it below!
Wish List is a great way to show your appreciation of my blogging. Amazon money gift cards are most welcome using kimrub@btinternet.com.
Important: the only way to book an appointment, or to ask questions is to call Miss Kim on: +44 7729 003220
Miss Kim ?