Announcing my new play studio is called Recording Studios
Excited to announce that I have a new play space. Below I have outlined the areas I will be covering (and the rental possibilities), which will be;
My pro domme sessions
Small monthy dungeon parties
Day-rental packages for content recording
Secondly, the name is called Recording Studios, as it used to be. However, all private pro domme sessions will NEVER be recorded. It's just a name. My new space was professionally soundproofed, so that you can relax and there is no unwanted attention.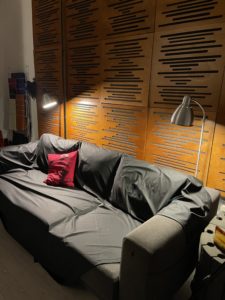 One: Sessioning in a dedicated space will be a new exciting project for me as I have been using my personal living space for nearly four years now. It's much bigger and like all new projects, very exciting. I have LOTS of equipment and toys. If you would like to session with me, call me on 07729003220 to discuss the endless possibilities. A £50 deposit must be paid to confirm the booking via an Amazon Gift Card.
The name chose itself, as it used to be a called Recording Studios
Two: My monthly Mistress Workshops will now take place in this area. At each event I will have a maid, who will serve drinks and take coats. All the details of my Summertime Mistress Workshop Specials are on the dedicated site.
In conclusion, my nine year old workshops will restart on the usual monthly basis.
My new play space is now called Recording Studios
Three: My dungeon parties with Mistress Vanessa, at her chambers in Paddington closed on December 31st 2020, which meant our dungeon parties of 18 years, stopped. Now I have my new space I'm able to offer four places to clients each month for a group party situation. Two other house Mistresses and selected ladies from my montly Mistress Workshops will join me for four hours of fun. Existing clients will take priority.
Therefore, if you would like to experience my new playroom, book now. Contact me on 07729003220 for details off how to book a place.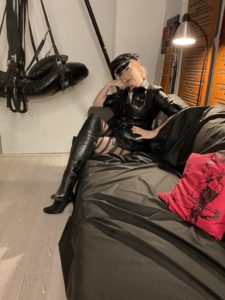 Now called the Recording Studios
Four: Selected ladies will be offered a full day package to rent the space for making content. This could be you...message me at misskimrub@btinternet.com. Included from 9am to 5pm is the location, selected equipment (not everything) and a camera operator (me!). Many films can be made. Lots of photos and gifs too as I'm very good with a camera. If you have a good work ethic, enough can be acheived in one day, for a two week, to a month period. There will only be one slot a week dedicated to this.
Consequently, please be prepared as the answer may be no or it's not available.
Five: more space means I can do my latex Workshops in my new studio. It's really well lit and lots of space. Click on the link above for more details.
Furthermore, this is still a private establishment and I would like to keep it that way. Do not give out my address, if you know it.
Subscribe to the weekly newsletter here.
Photographs and films: want to see more of me via my clips site: OnlyFans
Tweet this Blog? Do it below!
Wish List is a great way to show your appreciation of my blogging. Amazon money gift cards are most welcome using kimrub@btinternet.com.
Important: the only way to book an appointment, or to ask questions is to call Miss Kim on: +44 7729 003220
Miss Kim ?