Very cheeky slave once said to me "Mistress, you know that bit of flesh at the top of the stockings, that's called the giggle band. Because if you get that far, you're laughing". I'm a fully fashioned stockings mistress.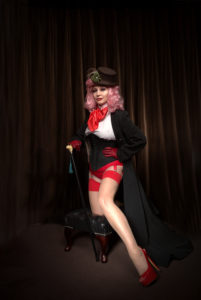 All my boys are educated on, what the term 'fully fashioned' stockings means. Equally, the ladies who come to my Mistress workshop are informed also. When nylons were first invented they had very little stretch to them, which resulted in them having to be made in various sizes. You must take into consideration your foot size and the leg length, these usually indicated the width they will come in. When you hold them up, after taking them out of the packet, there you will see the shape of a foot and a leg. Thus coining the term, fully fashioned (in the shape of a leg) stockings.
Aficionados, will know that, one never wears a stocking stretches to infinity and comes in the shape of a tube. These are tasteless.
Favourite brands of fully fashion stockings include Gio Stockings in Cuban, Memphis and Point heels are preferred. Also Cervin are just the best.
Vintage stockings make up a large percentage of my collection, mainly in tan. Once I open a fresh pair, I use black silk gloves to put them on, this way I avoid any snags. Taking my time putting them over the red polished toe nails, and sliding them into my silky soft legs.
Importantly, the pièce de résistance is always the suspender belt, whether it's a simple, six clasp, eight or 10, 12 or 14 clasps, or more! Sometimes as a treat form slave, I let him help me secure stockings at the back. Of course, if they are seamed stockings, he must ensuring this is straight.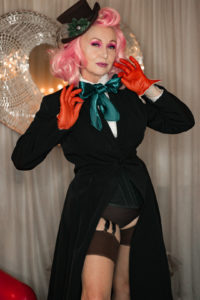 Paramount, panties go on over the top of the suspender belt for this fully fashioned stockings Mistress
Worth remembering, very often this is a schoolgirl error of putting panties on first. This will result in them not being able to be pulled down. Big pants over the top of a g-string means they can be seductively taken off!
Fully fashion stockings have very little stretch on them. They have a wonderful wrinkle around the ankle and the back of the knee. I'm particularly enamoured with this detail. Once on, I look upon the vision and think "legs for days".
Strangely, and surprisingly they have a sound. It's very difficult to describe the sound so unless you have worn a pair, then it's impossible to tell you what they sound like. For me, they are decadence. After all, they exceed the price of a pair of tights substantially,.
Just like a favourite shade of red lipstick or or a classic pair of patent, leather 6 inch stiletto heels.
Effortlessly paired up with real leather, satin, chiffon, real fur, and of course, the correct hat for the outfit.
Picture this, my gloved hand sliding up a stockinged leg, perfumed for my special slaves, caressing the suspender clip, leather hand gliding over the flesh that is exposed at the top. Either crossing one's legs at the ankle, or the knee, is one of the sexiest sights. Undisputable elegance, glamour and class.
Stockings come with contrasting seems black stockings with red, seems down the back, black and red lingerie.
Love the brand What Katie Did for their colour options (above). Dislike hold-ups with lacy tops, not a huge fan of tights, although I do have some special boys who enjoy me wearing these. I like the drama and look of stockings.
Those of you, who are enamoured with feet stockings tightly, caressing them over the perfect toes, delight as they wrinkle round the ankle and caress, as they move north round the knee enough to make any slaves mouth drawl for the heel at the end.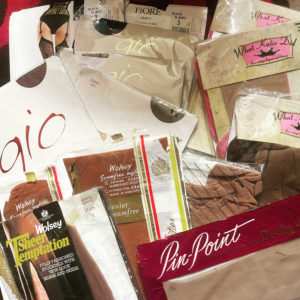 The perfection of stockings or a fetishists dream.
Hypnotic, magical, captivating, a lady can never have enough nylons. Such is my well-defined and distracting pair of pins. Apart of elegant dressing, they are suggestive and full of promise. For the discerning and the admirer, they are heaven! See the comments I get...
Every ladder needs a climber, I use these to treat my slave to climb the stairway to heaven. Sending him home with the damaged stocking. Securely tying it somewhere special.
Tweet this Blog? Do it below!
Photographs and films: want to see more of me via my clips site LoyalFans.
Wish List is a great way to show your appreciation of my blogging. Amazon money gift cards are most welcome using kimrub@btinternet.com.
Important: the only way to book an appointment, or to ask questions is to call Miss Kim on: +44 7729 003220.
Miss Kim x