This last 12 months has been interesting and this London mistress one year on, is better for it.
Who knew 12 month ago we would be going into, what in effect was a one year lockdown. And we are still in it! So on the anniversary I thought I would sit down and list all the positive things I have put into place and done.
My mistressworkshop.com went online, which was the easiest and est things I've done in a long while. I've taught ladies in Norway, Holland USA, Spain, Ireland, Scotland and Sweden.
Like most people when it first happened, I went through every cupboard, shelve, wardrobe and storage bin. From the kitchen and bathroom to my changing room/office. Shelves and everything on them, were cleaned and straightened. Of course, there was the charity shop pile that grew and grew in the hall for months, waiting for them to open.
London Mistress One Year is relaxed and refreshed
Home organisation was first, then I moved on to my clothes, adopting the Marie Kondo approach. All my hanging clothes went into dry cleaner bag (I got a huge roll). I was brutal and got rid of stuff I didn't want.
Then I adopted a skin care regime, for the first time in my life. Thanks to Trinny London for all the information, and Dr. Maud for my electric face cleaners - Lumispa. Now I have cleansing balm, micellar water, hylaronics, acids, vitamin C, retinol, oils and moisturiser. I got new shelving and draws to store it all. Even got a Dymo hand-held printer for labels. Make up too!
Sorted out my 70+ hats and now have them displayed. Plus, since I did that, I acquired another four hats; navy, pink, plum and leopard spot.
With the use of sale time at Zara, Depop and Vinted I have filled in many gaps in my wardrobe. We all have clothes that we would wear if we had something that matched...well, now I do! Just can't wait to get out and about again. Time to show off my new clothes, shoes, bags etc!
Many of the missing household items I needed were collected during the early part of lockdown, which encouraged me to start my own Amazon Influencer page. I earn a few pennies if you buy any of the things on my lists.
Started a Linktr.ee as my list of social media pages, profiles and website grew and grew.
I'd had an OnlyFans for a couple of years, but didn't really know how to use it. At the beginning of lockdown I entered into a social bubble with ONE client and he has seen me every week for a year. This gave us both something to look forward to, and I've perfected my content making. I have 100's a films and photos. Very proud of my content which is close to 7K photos and 900 films. Five posts a day is definitely worth £15 per month.
Last summer I revamped my roof terrace with new plants, pots, an umbrella and lounger. If I had friends over in the summer, it's where we sat.
As a London mistress one year on, I have learnt a lot
Inteviews and reviews of moi went into overdrive during this time. All listed here.
Over the Christmas period I filmed a YouTube "Good Day Darling" film every day. I spent the whole of November practising and perfecting my skills. It was labour intensive, but made me realise how much hard work it would be to be a YouTube influencer.
Started my Ko-fi.com page which has afforded me much of my skincare and clothing. Want to support me? I'm currently saving for a new sewing machine. Thanks to those that have supported this.
CashApp also allows you to support me and pay deposits for sessions.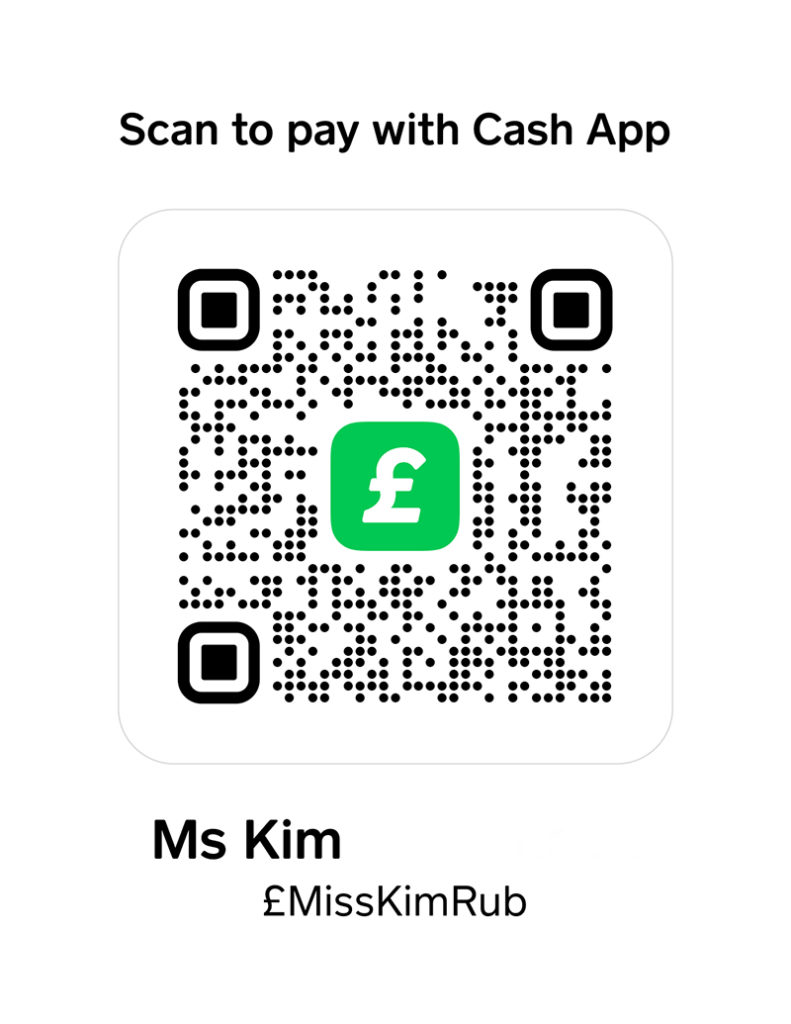 Also had many item send from my Amazon Wish List and Gift Cards which are so handy for groceries.
If you can't use Amazon online, you can buy a gift card at your local supermarket. If fact, they have many gift cards to choose from. Simply purchase a gift card with your cash, then tell me the code over the phone. Simples.
Revue is my new newsletter template and subscription site. Join me and see my weekly newsletter?
Also on TikTok with my darling Charlie Bouquett and it's called @Mother.Daughter.Act. All very tame/PG rated. Follow us?
Something I've done since the very start is my daily, crack-of-dawn walk to London Bridge. Take a photo of Tower Bridge then walk home. All these shots can be seen on my Instagram @KimClubRub. It's very important to get out every day. Fresh air and a positive state of mind. I used to swim every day 🙁
Unlike most people I've mangaged to lose a few pounds. Fingers crossed it says off!
This year I now have a real cleaner, a dear friend who had lost all her jobs in 2020. Now I have a very clean home.
Next project is to get the bar fully stocked for when I have my friends over.
Finally I've got a new washing machine. Thanks to a very good slave who lives close, he's done my clothes washing for the last year, as it broke 12 months ago. He's fab at helping me out with DIY too.
In conclusion, I've had a amazing 12 months of lockdown...I know it's not over yet! I'm the 'cup half full' kinda gal, so it was always going to be a positive experience for me. Saying that, I want to go to my house in Spain. I miss early evening cocktails, afternoon tea, galleries and museums. I need to see my folks...I've had enough now.
Now call me on 07729003220. Don't ask first, just call.
Photographs and films: want to see more of me via my clips site: OnlyFans
Enjoy what I do? Then please support me on Ko-fi and buy me a £3 coffee or two!
Purchasing something from my Wish List is a great way to show your appreciation of my blogging. Amazon money gift cards are most welcome using kimrub@btinternet.com.
Important: the only way to book an appointment or to ask questions is to call Miss Kim by calling on: +44.7729 003220
Miss Kim ???