Happiness, because I love it, is why I teach my Mistress Workshop.
As a coach (and why I teach my mistress workshop), I try to connect with your own mind and heart, so that your experience has meaning. I can't change your life, I can however, point you in the right direction to make your own way. Not everything I say is going to be perfect and insightful, but if I can show you something beautiful, you might fall in love with this, and want to be the best version of yourself.
Group workshop for March 26th and April 23rd - details below!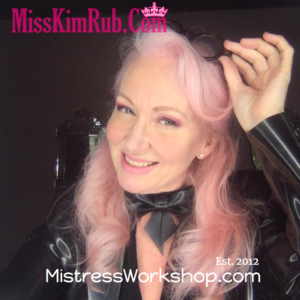 For me, happiness is two things; 'daily habits' like my walks, gratitude, the arts, friends and family, my work, and then my 'deeper purpose' or 'meaning of life', which is how can I be in 'service to others'.
There are things that I do daily basis, and then there is almost the objective, or the reason why I exist. For me it's been finding my passion and using it in the service of others. I think when people think of this concept, they think of Mother Teresa. However, the practices that I teach are so deeply embedded in someones psyche, that developing an understanding, so that I can help people move forward and enjoy their kinks without self-doubt IS truly being in 'service to others'.
It is what creates the greatest, deepest happiness. When you can actually use that to improve peoples lives and you can use that skill, that passion, that energy to make a difference, there is no better feeling. This is why I first and foremost teach, and practice BDSM.
Why I Teach Mistress Workshop is all about passion
There are a lot of people with passion, but they are not in it for the 'service or others', but for business, money, success and they have all this as their over riding drive, which is great. Of course, many don't understand how to use their passion for a purpose, and so many feel ill equipped to make a difference.
My special role, my position in the UK BDSM/fetish scene started 34 years ago, makes me uniquely qualified to teach and practice the fine arts of BDSM. I know what I love, and what makes me happy. So when I do that for others, I feel like i'm in my flow-state. LINK
Look at your life and think, do I need to improve may skills, do you need to broaden my challenges, is this the year of expanding your challenges? Personal mentorship has transformed how I help mistresses moving forward. The flow between your skills, and your challenges in life. So, if your skills are higher than your challenges, you can come bored, lethargic and maybe feel stuck, feeling overwhelmed, potentially disconnected and disappointed in the scene. My PMA LINK moves me on to the next project keeps me happy.
Why I teach workshop constantly challenges me
Therefore, on a daily basis I find I'm playing around with the equation for happiness. I know I have a skill set that brings me such a joy. This is why I know I will still working in to my older age, it's the right direction for me. I think that is an underplayed part of happiness, because it doesn't sound like something predictable or obvious. For me it's authentic, which is the key to most things you want to be taken seriously at.
Believe me that to create happiness we must do it; one year, in one month, in a week, and one day at a time.
There are three things that will help you in this goal:
Learn something new every year. Read my Educate blog.
Start a new project, big or small.
Fall in love with something…have a passion.
If you think about it, they all interconnect. Maybe you see something and feel you are going to have a passion for it! Learn about it. Make a project out of it. Male it's needles. Find yourself a needle bunny, take my class and have a project to creative something special with needles every week and post that to your own website, Fetlife or Twitter (be careful of shadow banning). Get the idea.
When I talk about Flow-state that comes into the idea of raising a challenge launching your project
Personally I want to learn every year, and it's usually based on what I want my next project to be. Recently I've thought maybe I need to learn podcast, will that be my next project? I'm not sure it I will love it. It doesn't make sense to go straight in without learning something first. Yes, you can wing it, but really you've got to learn about something first, and then you can fall in love with it.
My definition of true success - there are four important decisions we make in life and if you can make every decision intentionally with the desire to learn and serve to the four most important decisions we make in life
What do I do for money?
How do I feel about myself?
Who do I give my love?
How can I be in service to others?
These all say a lot about your life, whilst focusing on intentionally making the right choices.
My workshop has operated every month for the last 10 years, during the pandemic I went online and conducted my 1-2-1 classes via zoom. I teach you EVERYTHING your need to know in 4/5 hours for ONLY £150/180. Plus I'm then your mentor and always there for you with any questions, free of charge!
Here are the dates for my next two Saturday Group Mistress Workshops in my new studio in Shoreditch/Hoxton London E2: March 26th and April 23rd. They will run from 12.30 to 5pm and are only £150. A non-refundable deposit is needed. Call 07778596047 to book your place.
Two hour specialist workshops are ONLY £100 on a variety of subjects;
Anal Play & Pegging
Needle Play
Wax Play
Fun and BDSM Bondage
Corporal Punishment & Impact Play
Social Media Marketing
Branding & Mentorship
All of the subject above are covered in my Mistress Workshop, I teach you how to get the most out of each BDSM practice that you are interested in, with formulas and methodical approach.
Did you read my TESTIMONIALS? All 100% real. I have taught hundreds of ladies.
Rest assured, I Miss Kim is the person that teaches you, and I have an incredible history. ALWAYS check the credentials of the person teaching you. Why not have the best?
Tweet this Blog? Do it below please?
Wish List is a great way to show your appreciation of my blogging. Amazon money gift cards are most welcome using kimrub@btinternet.com.
Important: the only way to book an appointment or to ask questions is to call Miss Kim by calling on: +44.7729 003220
Miss Kim 💋