My favourite Paris domina club is called Le Regne Des Dominas. It's at an amazing venue called Cris et Chuchotements, and is run by my darling friend Mistress Lunatika.
My invitation as the Guest of Honour for the night, came with some lovely treats. Plus lots of boys had turned up to meet me. I wore leather as I'd looked at the weather forecast and knew it was going to be very hot, a heatwave in fact. Not the weather for latex! Plus I had asked what Lunatika was wearing, and she had told me she would be matching me in leather.
Top Paris club
My trusty slave Mr Underheel organised the trip, and picked the perfect location for our accommodation. Just five minutes walk from the the venue, which is in the Clichy/Sacre Coeur area. Plus he has lived in Paris and speaks French.

Every second Thursday of the month from 10:30 pm, the Domina party brings together the greatest mistresses from France, and Europe for the delight and "pleasure" of submissives. Mistress Lunatika is the host and very welcoming to experienced Mistresses, but also novices. The venue Cris et Chuchotements has been this location for 75+ years and has an amazing history. Famous patrons like Jean Cocteau and Jean Marais have been regulars over this period. And of course, it hasn't always been a BDSM venue, but it has always had a sexy atmosphere and is close to the Pigalle area (renowned for the risque pleasures).
Atmospheric Domina club
Although the venue starts in the basement and leads lots of charming little rooms up narrow staircases in every direction. All with various pieces of dungeon equipment in them. Lots of seating in the fully stocked cash-bar. The bar was busy at the beginning of the night, then bit by bit the disappeared into theses rooms.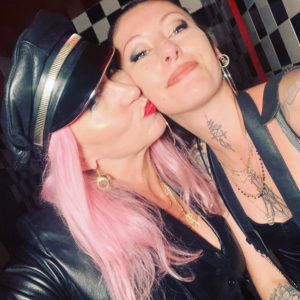 Like every successful mistress and promoter there is always a beautiful entourage. Some of the delightful ladies either took photos or posed with me for them!
The other night I'm thinking of going to is their slave auction night, which is monthly, but it may have to wait.
Check out the other nights at this club
Mistress Lunatika is visiting me in August and we will be doing filming days and double domme sesssions from my play studio in Shoreditch/Hoxton London E2. Call if you would like to book either a filming day at £200 (must have ID) or for an hour session at a little more! Call to discuss 07729003220. We both particularly enjoy medical, although we are well accomplished at all practices.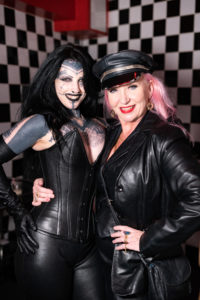 In conclusion, this will not be my last visit. Especially if I get a Eurostar boss to fund my tickets!
More details about the club night Regne des Dominas here.
Want to book a session with me? Call me for rates on 07729003220 - don't text, call!
Enjoy what I do? Then please support me on Ko-fi and buy me a £5 coffee or two!
Purchasing something from my Wish List is a great way to show your appreciation of my blogging. Amazon money gift cards are most welcome using kimrub@btinternet.com.
Important: the only way to book an appointment or to ask questions is to call Miss Kim by calling on: +44 7729 003220
Miss Kim 👠👠💋