"When Miss Kim's boy Mr Underheel contacted me on Twitter, I was delighted as I had met her at a fetish party a few years ago in France. Fast forward to this 'dungeon in London' testimonial...
Immediately I received his message, I invited them my Femdom party in Paris - The Reign of Dominas, at my amazing venue - Cris & Chuchotements. I was thrilled when she agreed to be my Guest of Honour at my June 2022 event.
Then in August followed my visit to her home and dungeon in London, as we had spoken about this when she came to my establishment. We had already met and got on very well, so it seems like the most natural thing.
Dungeon and home of Miss Kim Rub in London
It had been so long since I had set foot in London! I was happy at the idea of coming back, to visit my friend there, but also a person with whom we have a lot in common, mainly in the fetish and BDSM world.
Such an incredibly warm welcome by Kim when I arrived. It was late so we quickly went to bed, but she took the time to put me at ease. She's a great host!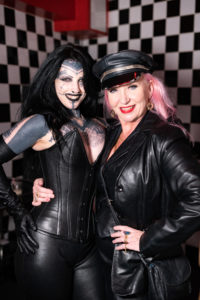 The next day we had a great black-leather body-bag restriction session in the morning, with one of her slaves. In the evening we went to the Club Sanctum party, run by Miss Kitty Bliss. It was a very good evening, the participants were all charming and very playful! Probably a party I would go back to.
The next few days we were so busy between sessions, filming, photo shoots etc. It was crazy, but it was good!
Filming was great, as Miss Kim taught me everything she knew. This is definately something I would like to get into it to. There was a lot of information, it was intense, days dedicated to filming and learning. Miss Kim is very pedagogical and knows how to communicate in every way to make a person comfortable. It was so fun and simple with her.
Therefore, I would recommend to dominatrixes who want to try shooting BDSM clips, to go to Miss Kim' s Content Filming Day. She is there with you all day, and helps you according to your needs. She takes photographs and Boomerangs too. Informs you of details you don't necessarily think about. It's very good for beginners, or even if you're used to it, help is always good to take.
Honoured to stay in Miss Kim's London dungeon
There are few people in this fetish and BDSM scene who are really as involved as Miss Kim, and this is one of the reasons why we are friends, because we both share this common passion.
In conclusion, I can't thank her enough for this memorable stay. I returned to France very happy, with new knowledge, a feeling of sharing and understanding.
Thank you Kim, Love Lunatika <3"
Past Testimonials:
Want to see more photographs and films of me? Do that via my LoyalFans site.
Enjoy what I do? The please support me on Ko-fi and buy me a £5 coffee!
Tweet this Blog? Do it below!
Wish List is a great way to show your appreciation of my blogging. Amazon money gift cards are most welcome using kimrub@btinternet.com. Because giving fills you with joy.
Important: the only way to book an appointment or to ask questions is to call Miss Kim by calling on: +44.7729 003220
Miss Kim x