Introductions were made by Tim Woodward, of Skin Two in an email, as The Baroness had requested I attend her Baroness Domme Weekend.
Excitedly, I made my way to the countryside just outside of Lyon, France. I was on my way to the very first Baroness Domme Fete Weekend, in her beautiful 12 bedroom Château.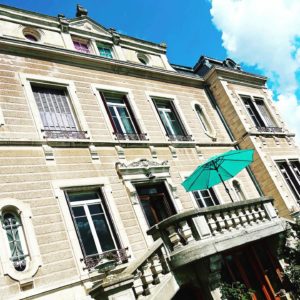 Originally from New York City, The Baroness is legendary. Her shop by the same name, and latex design business were known throughout the world. Well, very popular in the USA for decades. I'd heard of her, but never met her.
Thrilled to be invited to the Baroness Domme Fete Weekend
Upon arriving at the Château, having only talked on the telephone for an hour, we instantly got along like old friends. I was given a glass of champagne and the guided tour of the property commenced. I was shown the grounds the following day as it was pouring with rain. The tour of this huge place was extensive, but I got the distinct impression her dressing room and design studio on the first floor, overlooking the beautiful French countryside, were favourites. A woman after my own heart.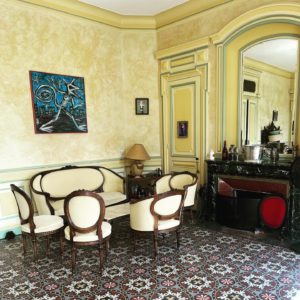 Formidable springs to mind when I think of The Baroness, effortlessly she ordered her to slaves around. Slave glenard was finishing some DIY work. Whilst the other, slave shine was commended to do various chateaux chores (both below).
Mistress Midnight Maya and her slave J, had already been there a day when I arrived. That evening we when to eat in a local restaurant, with her gay neighbours, whom she has become very close with. They were fabulous 💝
Simone Justice was sick, so she couldn't attend
However, the next day Friday; Mistress Lunatika, Axelle du Sade and Domina M, all arrived in time to freshen up and have supper together. We started with Champagne in the beautiful salon, with splendid view of the French countryside, and then into the adjoining dining room for supper. I wore a Robin Archer (House of Harlot) dress. After dinner, we had pictures in the drawing room and more drinks. And then one by one you went to bed.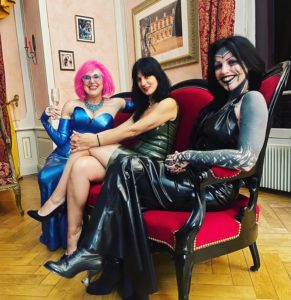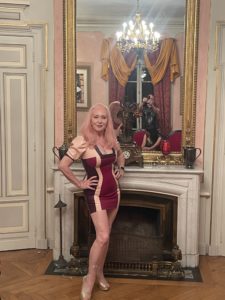 Attention to detail is one of the many things The Baroness is good at, so the evening meal in the elegant dining room with her slaves in attendance, ensuring the five course meal, with copious amounts of Champagne, went swimmingly.
The Baroness is very high protocol and expects to be addressed by her title after every instruction. These instructions must be carried out to the letter also.
Breakfast was ready and waiting, the next day Saturday, as we all arose one by one. Her slave shine made sure we had everything we needed, from eggs to coffee, pastries and toast. The Baroness is a late riser, so we enjoy chatting on the terrace before she joined us.
Meeting other Mistress was the main aim of the weekend, bringing together a meeting of minds. Much of the day was spent chatting and sharing opinions and tips.

Dinner was another lavish five-course meal served by her two slaves and cooked by another. The champagne flowed as we enjoyed the meal in latex. I wore a green Breathless Latex dress and stockings. However, the hood came off to eat. How beautiful was my bedroom above?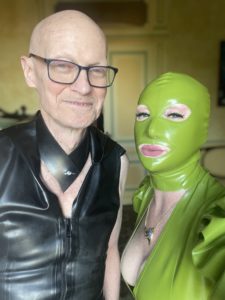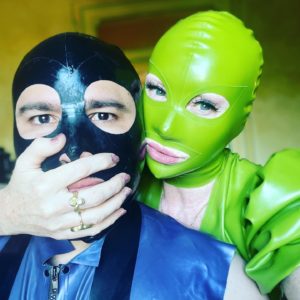 Breakfast at Baroness Domme Weekend was delicious
The second morning Sunday we took what we wanted from the breakfast buffet then sat outside on the terrace, admiring the view.
Sunday early afternoon was spent sitting in the grounds drinking Champagne and talking to each other. However, Domina M went for a long run and Axelle did some yoga on the lawn. I had taken my swimsuit and was looking forward to swimming in her pool, however, the builder has let her down, and it was not finished in time. Then came the BBQ under the trees, by the frog fountain ⛲️ And very loud they were too!
Delicious BBQ at the Domme Fete Weekend
Privileged and grateful that I can call The Baroness NYC, latex designer, legend and chatelaine, my dear friend.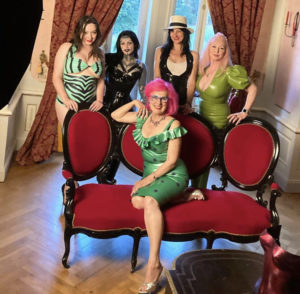 In conclusion, whilst The Baroness's chateau is in full working order, however she has many plans for the grounds and various different rooms, that need the help of any willing slaves. There are positions for live-in slaves, and also for slaves who would like a holiday/work based position. Applications for both live-in and holiday/work positions should be made directly to the Baroness using this email Baroness@Baroness.com
Essentially, references will be needed, and proof of solvency, should you need to leave the Château.
Tweet this Blog? Do it below!
Photographs and films: want to see more of me via my clips site LoyalFans.
Wish List is a great way to show your appreciation of my blogging. Amazon money gift cards are most welcome using kimrub@btinternet.com.
Important: the only way to book an appointment, or to ask questions is to call Miss Kim on: +44 7729 003220.
Miss Kim x