Features Editor for Zeitgeist fetish magazine for about four or five years. It's so long ago, maybe 25+ years, that I can barely remember 😂
Literally, I'd just started my first fetish club - The Rubber Nipple Club when I went to work at Zeitgeist fetish magazine. Only been on the BDSM/fetish scene seven years at this stage, but felt like I knew it all, and everyone also.

At the time, which was pre-Internet, there were only a few magazines, all of which were produced sporadically rather than periodically. The highlight of the month (or year sometimes) was when one of these publications was released. My favourites were Skin Two magazine, by Tim Woodward and Zeitgeist magazine, by Dave Notaro. Both also had retail shops in London. Dave still has the same shop but now it's called Ram Books, mainly online but open two days a week!
My background, prior to working at Zeitgeist, had been in public relations and marketing, specifically working on travel accounts and tourist boards. All travel related. So I was used to writing the formulaic press release format. Which is probably why blog writing appeals to me, as it does have some elements of formula in its approach. Creative writing has been something I've learnt to perfect over the years.
Great memories working at Zeitgeist magazine
Zeitgeist issue 7, was the one I worked on extensively. In particular, the San Francisco feature, as it was a city I knew well, having lived there in 1985. Was great revisiting a place I loved, but this time making contact with companies, artists and well-known figures in the scene. However, this trip was different, as I previously been a nanny, living there for a year. This issue was a joy to research and write.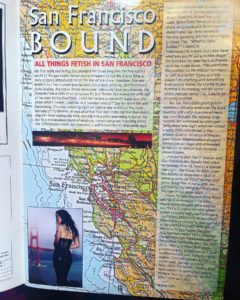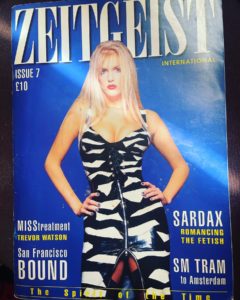 Not only was I the Features Editor, but stylist also. I worked with a famous NYC Mistress called Felina. Writing the photo feature foreword and directing each shot. I also hired in the theatrical costumes as Felina had a particular love of the theatrics. In fact, two photo features in this issue.
Eight magazines were produced in total. They were very expensive to produce, time-consuming to compile/design and notoriously difficult to distribute due to the magazine-industry monopoly in the UK at the time. However, there were many more BDSM/fetish related shops in those days, that you could sell them in. Plus Dave Nataro had a huge database, due to his very successful mail-order clothing business.
Exciting times, as I got to see more fetish imagery than most. Of course, there was no sign of the Internet at this time. Also around this time at the Zeitgeist offices, I met Sardax, who is now very popular in the Fem Domme community.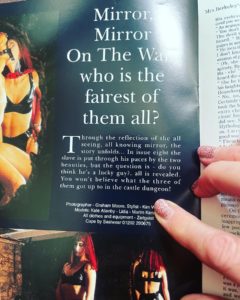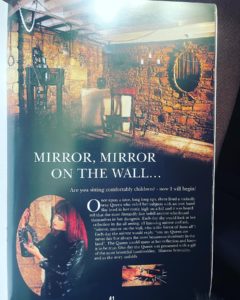 Never wanted to leave Zeitgeist, as I thought the world of David Nataro! We still keep in touch and meet for lunch. Soon actually, summer 2023. After I left Zeitgeist, I went on to be the 'UK Clubs' reporter for Marquis magazine a German based fetish magazine originally produced by Peter W. Czernich since 1994. I wrote under the pen name the name Fanny Gaslight. I wrote for them for 15 years.
Trevor Watson was one of the first people to shoot me. Enjoyed being a nurse!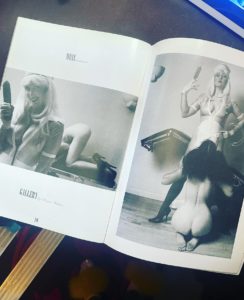 Newsletters are always something I've written, starting with the Club Rub newsletter, that ran every month for 20 years. Now they're archived in the Bishopsgate Institute. Their library has all the Zeitgeist issues which you can read for free. Just go in and ask to see them.

Writing found me, not the other way around. I really enjoy it
When I became a dominatrix, I decided to write a personal monthly newsletter, and started during Covid. This ran on a platform called Revuu for 38 issues. When they close the platform down, I lost them all but retained my subscribers, who I have since moved to Tiny Letter. I'm now on my newsletter issue number 46.
Currently working on a photographic book with Miss Skyler Gold and her partner Mr Cummings, who are documenting my professional dominatrix BDSM sessions. No deadline for this, but will probably be no more than a year away.
More projects on the way
New book project, starting in August with a collaborator who is a very skilled writer, but also a total gentleman pervert. Very much looking forward to the joy of a gathering our joint thoughts on this project. Again, no deadline set at the moment as we have only just started. But very excited at the prospect.
Workshops need to be written, and the relevant information compiled into a creatively delivered performance, of which I do with aplomb. Currently as well as my basic five-hour Mistress Workshop, I also offer five other two-hour workshops; Wax Play, Needle Play, Impact Play, Anal Play and Social Media Marketing, of which I'm somewhat of an expert. My current media total, on all of my platforms combined is 190,000. Let's not forget my Latex Workshop , which is my oldest one, two years older than my Mistress Workshop, which is currently in its 11th year.
Everything needs words…blogs let people know who you are!
Five websites take some compiling and keeping up-to-date for SEO purposes; Club-rub.com, misskimrub.com, mistressworkshop.com, rubber-cult.com and my unique missKimlinktree.com which has 26 links on it. Thus ensuring it's a one-stop-shop for everything that I do.
My new podcast called What Would Kim Do? Again it takes a certain amount of thought compiling questions prior to each interview. Choosing and interviewing only the most formidable, powerful, creative women that make our BDSM/fetish scene a better place.
In conclusion, I'm at a very fortunate place in life to be able to pick and choose what I do,where I do it, and when I do it. Having paid off mortgages, have a wardrobe full of clothes, lots of real gold jewellery and a place in the sun…plus my own central London play-studio, not forgetting my adoring boys - I really do have it made.
As my mature years play out, I really do have the time to stop and smell the coffee
Enjoying the fruits of my labour, my social standing, respect I have earned and mu icon status. I feel moving forward, it's all about helping the community and nurturing those younger than myself. Not wanting to benefit from them in anyway - a true matriarch. And not a Machiavellian character.
Tweet this Blog? Do it below!
Photographs and films: want to see more of me via my clips site LoyalFans.
Wish List is a great way to show your appreciation of my blogging. Amazon money gift cards are most welcome using kimrub@btinternet.com.
Important: the only way to book an appointment, or to ask questions is to call Miss Kim on: +44 7729 003220.
Miss Kim x