The next Queen Bee Society drinks will be the Christmas gathering on 25th November 2022 from 7pm.
IMPORTANT: Change of venue! We are now going to the Four Seasons Hotel, Tower Hill, London.
Located at 10 Trinity Square, London, EC3N 4AJ it's the most amazing five star ⭐️⭐️⭐️⭐️⭐️ hotel. Put this address in you phone sat nav and it will lead you there, by whatever method you choose! When you arrive head straight for the bar which is HUGE. Don't ask for the Queen Bee event, they have no idea who we are! Please dress up glamorous as this is our Christmas gathering. I have chosen the best hotel in London. There will be the most amazing huge Christmas tree for us to get photos.
ALWAYS check that the event is taking place prior to leaving. PM me on Twitter @misskimrub or email me: misskimrub@btinternet.com for the address.
Again, I will have some tiny little queen bee charms for those ladies that have not been before. Plus this gorgeous Halloween inspired charm, as I like to have  a different one for each event.
Important: be sure to pick up your QBS 'gold card' from Miss Kim. Don't forget to bring it to each event, as there will be a ladies group shot for all your social media. We are all meeting to enjoy each others company, get, dressed up, have a drink and feel the powerful energy in the room. Please look for me, I have pink hair.
Queen Bee Society drinks is a huge success. Thirty five attended the last one
Queen Bee Society drinks is gathering for strong, powerful ladies. It's an opportunity to meet up with other dominants, queen bees, goddesses, entrepreneurs, leaders and get to know each other better
Named the Queen Bee Society because you are one!
We were feature in
Darkside
magazine. I also grace the cover of this
edition
!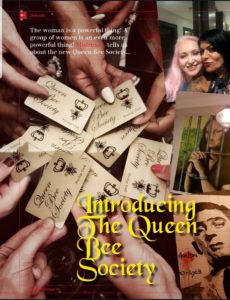 No men inc. TV's. DON'T bring your slave(s). (Dedicated to the
memory of Mistress Dometria
) Photographs and films: want to see more of me via my clips site: Loyalfans.com/misskimrub Tweet this Blog? Do it below!
Wish List
 is a great way to show your appreciation of my blogging. Amazon money gift cards are most welcome using kimrub@btinternet.com. Important: the only way to book an appointment or to ask questions is to call Miss Kim by calling on: +44.7729 003220 Miss Kim x