Testimonial: Another fabulous day with Miss Kim Rub at her London E2 BDSM play studio. It's fast becoming a regular stop, on my trips to the UK and Europe, said The Hunteress.
Absolutely love Shoreditch and often stay with a friend in the area. So this gives me the perfect opportunity to film content when I'm in London E2 at Miss Kim's BDSM play studio. Once I find the right boy/submissive/fetishist/ macsochist/slut then I'm excited to start. I get my head down and get stuck into making some quality content in Miss Kim's fully equipped studio.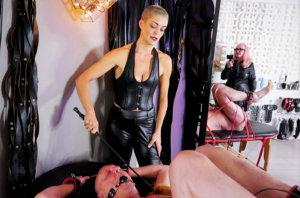 Specialist; as many of you know, one of my specialities is Corporal Punishment, so having a large selection of impact play toys is really important to me. Plus the pre-requisite spanking bench. There are also other pieces of furniture like a cute chest with the leather top, tripod frame and a stand-alone spanking bench. The perfect London E2 BDSM play studio.
Caters for my specialist BDSM play
Excitedly, this time, there were two new huge mirrors that could be wheeled into to create the perfect view for me, and my sub and the camera.
Huge lover of all things, latex means I'm not only usually dressed in it for filming, but there are many options of hoods, body bags, straight jackets, sheets, bandages, sheath pants, Love the small items of latex for tying up bits and pieces of anatomy.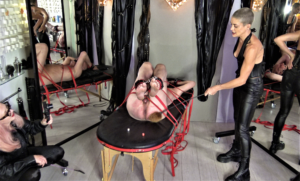 Over the years, I've found a lots of studios can be very hit and miss for equipment, hygiene standards, facilities like showers, ring-lights and tripods however, with the exception of disposables Miss Kim studio has it all. You just take those bits! Not a problem as I need them for travelling all over the UK anyway.
Love London E2 BDSM Play Studio - its got everything and more!
This time we made a special effort to get some stills, in particular, in particular, some latex hooded shots. Miss Kim showed me her vast collection, and was kind enough to let me use some. We are both huge huge rubber lovers, and I'm really pleased with these shots below.
Shooting so much footage is great, however, it looks like it will be weeks of solid editing for all these clips. Already thinking about what I would like to shoot next. Smart boys need get in touch with me now, and ask about my return. Only a few lucky subs get to film with me every time I return to the UK. So if you think you have what it takes, get in touch by using the application form on my website, so I can book London E2 BDSM play studio again. My Twitter.
Love that we shot stills too. They might be my favourite hood shots.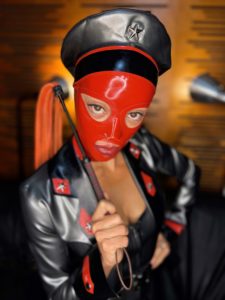 In conclusion, what I love about renting Miss Kim's studio is everything is done for you; furniture is moved. Camera is set up, backgrounds are sorted, equipment is ready, everything is clean, and she'll even make you a cup of tea.
So long Miss Kim Rub, it's been fun, until next year, when I will definitely back.
More Testimonials; Lunatika, Sophia Sahara, Melia and Roo Morgue.
Photographs and films: want to see more of me via my clips site LoyalFans.
Tweet this Blog? Do it below!
Wish List is a great way to show your appreciation of my blogging. Amazon money gift cards are most welcome using kimrub@btinternet.com.
Important: the only way to book an appointment, or to ask questions is to call Miss Kim on: +44 7729 003220.
Miss Kim 💋