Actually, I prefer to say what I do is sexy medical fetish play, as it's not hardcore or serious.
My medical installation is so sexy and atmospheric, with a vintage green hospital screen and metal trolley. The bench can be used to restrain, or just lay back and enjoy.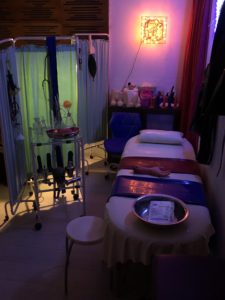 Nurse Miss Kim is waiting for your call 07729003220, to book your specialist appointment today. There are patient gowns in cotton or rubber. Miss Kim can wear white cotton or a rubber uniform for role play. So please state which when making an appointment.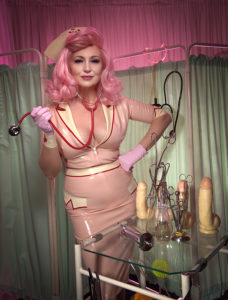 BDSM encompasses so many elements and medical fetish play just one of them. It's all about the juxtaposition of control and punishment...or pleasure and pain. Chose your acts...two at a time.
All the different sexy medical fetish play acts are;
Examination by nurse
Genital shaving and preparation
Full body vet-wrap mummification
Bed bath
Nipple Play with suction, scratching, clamps etc
Enema
Rubber sheets for rubber play
Mechanical Milking Tremblr
Sounds; Helgar, Rosebud and electro dilators
Restraints with leather, rope and luggage straps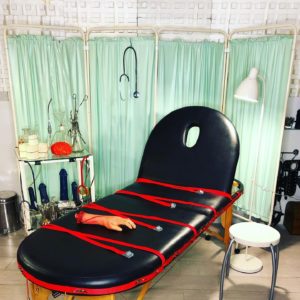 Unique white rubber bandage for mummification
Electro stimulation with ElectraStim 1/3
CBT
Anal play; many dildos, proctoscope, etc
Penis rubber bondage
Electro stimulation with Pleasure Tec 2/3
EroTek Electro stimulation 3/3 (below)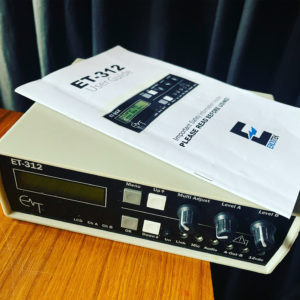 Testicular rubber binding, stainless steel devices, stretching with weights
Gummi AKA rubber medical hoods with pipes and rebreathers
Rubber dollification
Latex straight jackets
Gags; ball, Jennings, etc
Rubber sleep sac
Rebreather gas mask
Violet wand play - vintage machines
Prostate massage vibration
Various rubber pants with sheaths, dildos, zips
Orgasm control; edging, ejaculating or denial
Face sitting (in rubber pants)
Blood pressure check
Needle play (workshop available)
Suction cups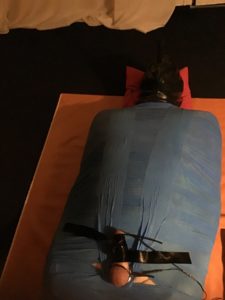 Therefore, at the time of booking your medical fetish play scenario...
Required, please state any medical conditions, or if you are taking ANY medication. This is very important.
All procedures are for fun and at your own risk. TBH I don't do breath play, which is the most problematic play. This is all for fun in a sexy medical environment.
In conclusion, there are hardcore mistresses who cater for extreme play. Just not me! If you want BP and SeriousKit equipment try here.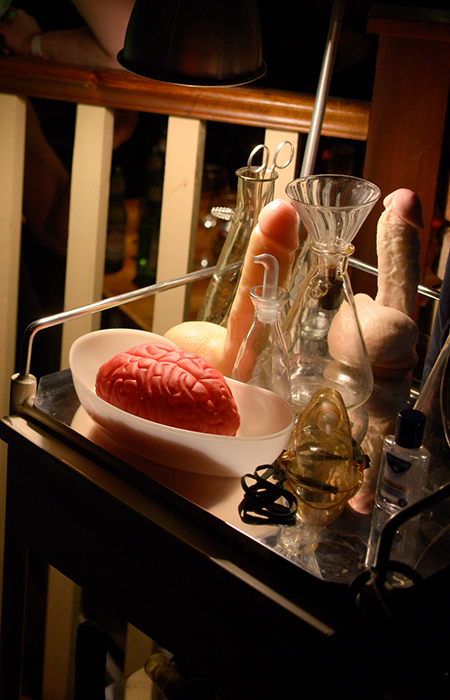 First medical blog, is worth a read too.
Tweet this Blog? Do it below please?
Wish List is a great way to show your appreciation of my blogging. Amazon money gift cards are most welcome using kimrub@btinternet.com.
Important: the only way to book an appointment or to ask questions is to call Miss Kim by calling on: +44.7729 003220
Miss Kim 💋