Over the decades many artist, photographers and illustrators have captured my likeness. Some have written about me in books and blogs. Since childhood I'm a long time art lover, also art mistress muse to creatives.
Recorded for all time, I'm an art mistress and muse. A lot of these works are in the Bishopsgate Institute Library and Archive in Liverpool Street, London. Archived in perpetuity for all to see, just by walking in and asking to see the Club Rub collection.
Art collector might be another word for my growing collection of art on my walls at home. There are a few pieces of art that are worth somethings like my treasured DotMaster and Rankin photos. However, I collect what I like, regardless of the value.
Focusing on the art and illustration is a passion
Recently Oliver Harud sent me this one, which I love and is a great likeness. When Club Rub was still running (closed in 2016) I commissioned him to do a set of six flyers. He's a much-in-demand artist with a very graphic modern manga style.
Debella recently sent me this image, well I am the queen of clubs. Absolutely love it and might get this outfit made up. No website for this artist. However, can be found of Twitter by the same name.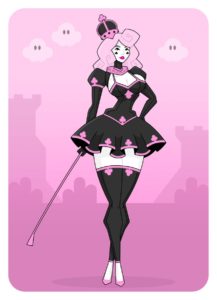 Sardax is a very famous Fem Dom artist that I've known for 25 years. Met him when I worked as Features Editor on Zeitgeist magazine. In 2018 we met up for coffee and he rendered this for me as we chatted. Also gave me a signed copy of the book Venue In Furs that he'd illustrated.
Artist called WORK, I'd commissioned to do some club event flyers for me, but he did so much more. No longer searchable. He did the flyer for the 20th Club RUB Birthday (which was the last!). I loved it as it was lots of themed images of myself, in a different monthly theme over 20 years. Without a doubt Alice in Wonderland and Pirates are my favourite dressing up themes. I have more he did lots of me somewhere.
Wore pink wigs long before I changed my hair colour
Tom is an amazing artist with a great style. He works as an full-time artist, creating anything from elaborate 3D models to drawings. He loves to use rubber themes, especially inflation and animals, usually both together. He can be found on Fetlife.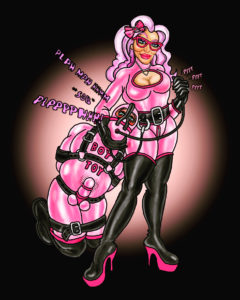 El DJu Dju sissy pervert and very creative artist did the very first Rubber Cult logo and was kind enough to turn me into a cartoon characters, the first one below is Japanese Kawaii style. Then a second one when I became a pro dominatrix.
Definitely an art mistress muse to Ju Ju
Matteo Alfonsi also did a set of six Club RUB flyers, can't remember if this was an extra, or part of the six. Anyway, it's me. Did someone say Afternoon Tea.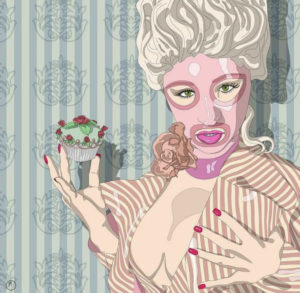 PetteriT wasn't happy just taking the photograph, he then used photoshop to manipulate the images and create art! Unique stuff too.
Valerian du Thorianie and I have worked together on many projects. I feel like I'm one of his art mistress muses. He comes highly recommended if you ever need any stunning promotional images. Love the flourishes he added to these below. Using me as his avatar on his Twitter profile.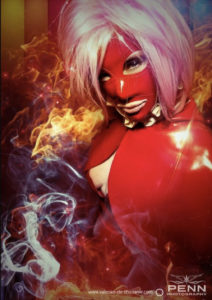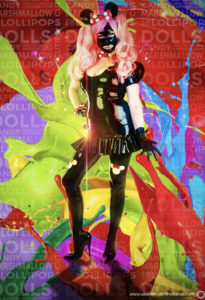 There are more somewhere, but finding them is the hard bit
Jason Atomic and his partner Manko were long time Club Rub goers. He came to Rub once, and pinned-up a roll of 12 foot by 5 foot drawings paper. Then sketched many of the party people there. I have a sketch he did at Club Rub over 20 years ago on my wall. Love his unique style. Such a lovely couple.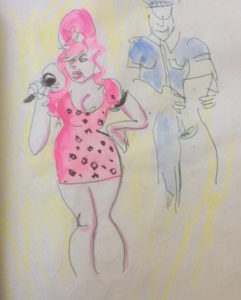 Cate Halpin used to be on Twitter, not sure anymore. Lost contact. She sketched pets for a living.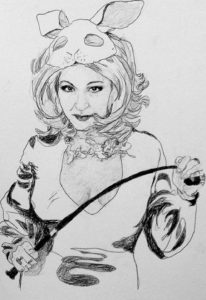 Phetish Skin is an amazing commercial artist but this is his secret project. This image with my 'objectified' rubber slaves is amazing. He also produced a certificate for the Mistress Workshop ladies to purchase. Which is stunning, and worthy of anyones wall.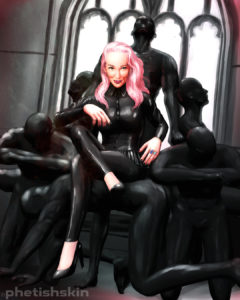 Wish I could remember this guys name. He came to Rubber Cult and sketched little cartoon images for those that wanted them.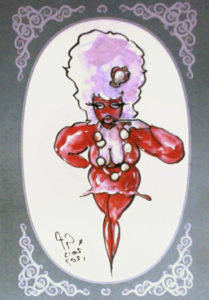 In conclusion, this was long enough, so I have decided the next blog will be about a few of the amazing photographers that have captured me over the last 20+ years.
Please subscribe to my monthly newsletter which is always out at 8am on the first of the month.
Tweet this Blog? Do it below!
Photographs and films: want to see more of me via my clips site LoyalFans.
Wish List is a great way to show your appreciation of my blogging. Amazon money gift cards are most welcome using misskimrub@btinternet.com.
Important: the only way to book an appointment, or to ask questions is to call Miss Kim on: +44 7729 003220.
Unique to me is my linktree - a one-stop-shop for ALL my 26 links!
Miss Kim 💋